Excitel has announced its 'Big Screen' plan for over 35 cities in India. This plan offers 400 Mbps speed which is bundled with a 32-inch smart TV with 16 app subscriptions, including Disney+ Hotstar, SonyLIV, and ZEE5 among others, at just INR 1,299 a month. Excitel's other Mini Home Theater plan offers a Full HD Home Projector with Autofocus and Dual WiFi, delivering a 200-inch viewing experience of 'Mini Home Theatre' at just INR 1499 a month.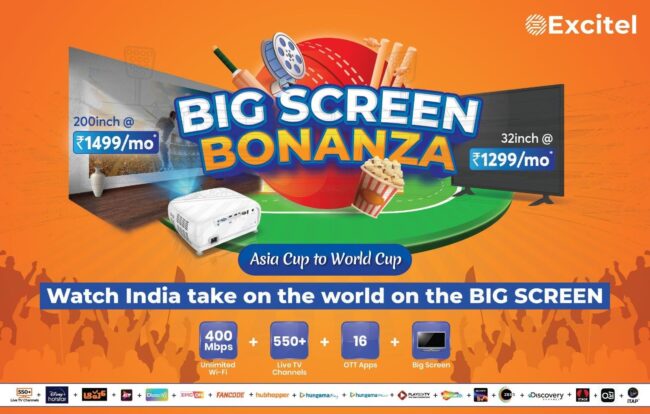 Acording to Excitel, they initially launched the plan in April 2023 in Delhi as a pilot. Following huge demand, the company extended its availability in the Delhi Region in May. The plan led to an uptake of 1000+ connections a month in Delhi and registered significant nationwide interest. Responding to this widespread demand, the company has now announced the 'BIG SCREEN PLAN' an expansion of the 'Smart TV with Smart Wifi' plan across the country.
Details of the 'Big Screen' plan:
| | | | |
| --- | --- | --- | --- |
| Speed | Bundle Pack | Offer | Price |
| 400 Mbps | 16 OTT channels 550+ Live TV Channels | Wybor 32 WHS-C9 80 CM Smart Frameless HD Cloud TV | INR 1,299/month |
| 400 Mbps | 16 OTT channels 550+ Live TV Channels | EGate K9 Pro-Max Automatic, Full HD 1080p Native, 660 ANSI, Android Projector for Home 4K, 210″ (533 cm) Max Screen | INR 1,499/month |
Commenting on the launch of new plan, Varun Pasricha, COO, Excitel, said, "When it happens once, it's an experiment. Twice, it becomes a commitment. And now it's a responsibility. What started as an innovative concept to bring a fresh perspective to the entertainment landscape with exceptional yet affordable internet plans has become bigger and larger. Our decision to expand the 'Smart TV with Smart Wi-Fi Plan' PAN India as BIG Screen Plan aims to offer users the luxury of uninterrupted and high-speed home entertainment with free OTT subscriptions, TV sets, and Projectors. We at Excitel, want to change broadband offerings according to the now changing ways of young to consume home entertainment. We envision aligning all our future offerings with the same commitment and responsibility for India's large and untapped broadband users".
Excitel also launched its one-of-a-kind 'Cable Cutter Plan' last month with up to 400 Mbps speed and a range of 12 premium OTT Channels, complemented by 550+ Live TV Channels.