Broadband service provider, Excitel has announced the launch of 'Cable Cutter Plan,' a game-changing solution for modern entertainment . This plan comes with lightning-fast speeds of up to 400 Mbps and a range of 12 premium OTT Channels, complemented by a diverse selection of 550+ Live TV Channels. Icing on the cake is that this plan comes with just INR 592 for 12 months subscription.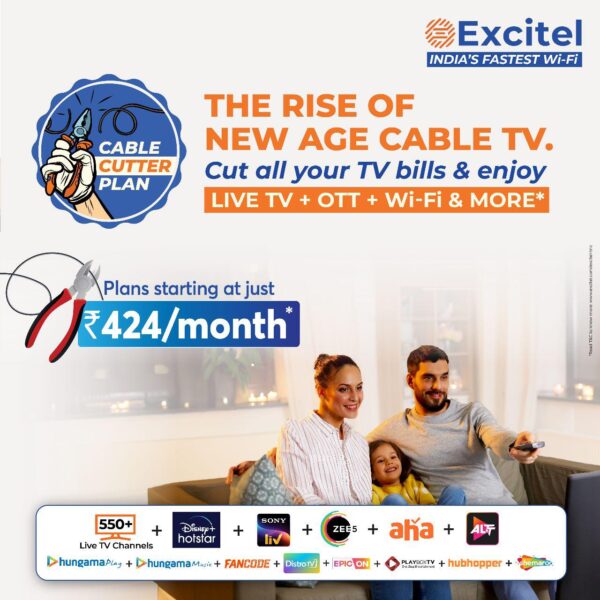 Under this plan, users will have access to an impressive selection of over 550 Live TV channels and 12 immensely popular OTT platforms, including Disney+ Hotstar, SonyLIV, ZEE5, all seamlessly integrated with blazing-fast internet speeds of up to 400 Mbps.
Excitel's affordable Cable Cutter Plan, opens up a world of possibilities for smart TV owners, empowering them to curate their TV viewing experience without breaking the bank. By eliminating unnecessary channel bundles and embracing a user-centric approach, Excitel is committed to delivering unbeatable value, unmatched
variety, and uninterrupted streaming with its high-speed WiFi connectivity, as stated by Excitel in its press statement.
Speaking about the announcement of Cable Cutter Plan, Vivek Raina, Co-founder and CEO, Excitel, said, "We are thrilled to launch our Cable Cutter Plan, a true game-changer in the home broadband and Cable TV arena. The ever-increasing popularity of OTT platforms and the soaring costs of traditional cable TV services have driven us to create a comprehensive solution for our customers. Our cable Cutter Plan offers a seamless blend of Live TV, OTT content, and lightning-fast internet speeds, all bundled together at an affordable price point, the perfect
fusion of convenience, variety, and affordability, catering to the ever-evolving entertainment needs of consumers. This, we believe, will empower users to regain control of their entertainment choices and enjoy an unparalleled viewing experience."