There are lots of VPN providers and choosing the right one can be difficult task. To make this task easier, we occasionally test out services and this time we took up ExpressVPN.
ExpressVPN is a rather popular VPN service provider based in British Virgin Islands offering cross platform VPN access. Before diving in deeper, here's an overview of what ExpressVPN has to offer,
Servers in 94 countries (over 145 cities/locations).
Application for almost every major plaform including Windows, Apple, Android, Linux, and Routers.
No logging.
Unlimited bandwidth & server switches.
OpenVPN (TCP, UDP), L2TP-IPsec, SSTP, and PPTP protocols.
Simultaneous connections on up to 3 devices.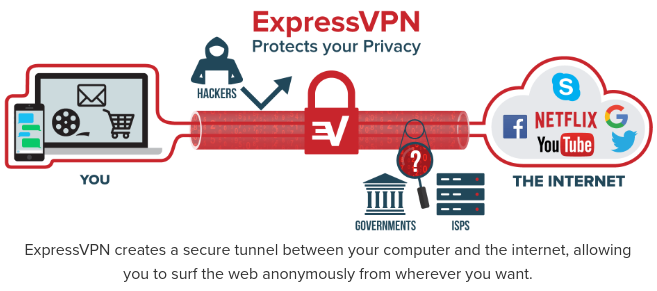 Server Locations
As of writing this review, ExpressVPN provides 145 VPN server locations in 94 countries including locations in United States, Canada, Australia, United Kingdom, and India. The list of available locations is long and that's something I appreciate the most about ExpressVPN. There's a rare chance that you'll not find a server of your choice. For complete list of locations, visit ExpressVPN server page.
Privacy
ExpressVPN clearly states a no data logging policy. While there is no definitive way to confirm the same. However, considering the fact that IP address change and that shared IP address is allocated, identification would be slightly difficult for pin-pointing an offender, in a hypothetical situation.
To clarify this policy and their stand on handling DMCA, I asked following question to their support, which by the way is excellent,
Question – The website mentions that there isn't any logging involved. In this case, if a user were to exploit your network for an unsolicited downloading/uploading, how does the whole scenario work out? Does Express VPN identifies and takes action against offender or (if a notice is received) DMCA notices are forwarded directly?
Answer – ExpressVPN has a strict no-logging policy for all personally identifiable data. Regarding DMCAs, there is nothing to take down, as we are not a content host. We maintain the anonymity of our customers and would not attempt to identify users on the basis of DMCA notices.
Application Availability
VPN's have had this conception of being difficult to setup and get going initially. ExpressVPN proves to be an exception. They offer support for virtually any platform you can think of. They have dedicated application for Windows, Android, iPhone, Mac, iOS, iPad, Blackberry, Linux (no GUI). In-fact, they also provider a customer firmware for selected routers to enable router level VPN! Now that's awesome.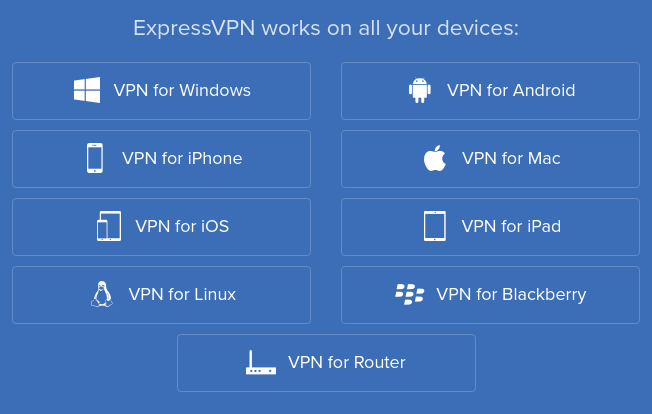 Functionality of application, however, varies from platform to platform. Windows app, on one hand, offers the most complete solution whereas linux app is bare-bones. As a matter of fact, being an Fedora user myself, I did ask the support about their plans for linux app,
Question – The linux client you have, although works great, but doesn't support basic stuff like re-connect on connection drop, etc. Moreover there is no GUI. Could you please point me in right direction regarding correct usage of linux client. And if GUI isn't available then what alternative do you recommend of a total beginner?
Answer – Our Linux app doesn't have any GUI indeed since it's terminal based. Our developers have yet to incorporate an autoreconnect feature as of yet. Linux platforms aren't really as user friendly as Mac OS and Windows. So knowing how to utilize the Linux OS itself is essential.
Connection Speed
What good is a VPN if it provides poor upload/download speed? Using ExpressVPN does hit your usual down/up link and in my case the speed was reduced by roughly 30% – 40%. Considering the fact that ExpressVPN uses strong encryption (4096-bit CA, AES-256-CBC, TLSv1.2, SHA512), a hit on data transfer speed is expected. This isn't visible if you're using ExpressVPN for casual browsing but things like live video streaming might be affected if used with slow internet connection.
Case in point, at home I use Bell Fibe broadband connection with speed of 10 Mbps. With ExpressVPN running and connected at one of the smart locations (New York, Toronto), I used to get 6 – 7 Mbps. This is by all means acceptable if I am using ExpressVPN on a single device. But when using the same at router level, using FlashRouters Linksys WRT 1200AC, and connecting 6 devices, browsing the internet isn't a pleasant experience.


Curious enough, I again got in touch with their support to further reaffirm if this is what should be expected,
Question – I have noticed almost a 30-40 % fall in down link when using express vpn. And this is true in almost all the end-points I have tried. I do understand there is some performance penalty since the traffic is being re-routed but halving the speed is bad.
Answer – When it comes to speeds, the speeds mainly depend on your current internet speed and the server location you wish to connect to. The reductions are due to encryption and further amplified by your distance from the VPN server location. There are a lot more factors involved other than these two, so you will never get 100% of your original speeds most of the time. What we do instead is have our customers connect to the nearest VPN locations from where they are.
Concluding Words
There aren't too many problems, issues to speak of. ExpressVPN offers a rather complete VPN solution and supports it well with plethora of apps. Things like torrenting, unlimited data transfer are indeed allowed. Though they impose a limit of 3 simultaneous connections but that can be easily circumvented using ExpressVPN at router level.
ExpressVPN is priced at $12.95 (monthly), $59.95 (semi-annually), and $99.95(annually) with 30-day money back guarantee. More details can be found here.
If you are looking for a trial, then sign up using this link and you'll be eligible to use ExpressVPN for free for a period of 30 days. Note that it isn't an affiliate link, no commission is earned out of it.