Flipkart today announced the launch of Motorola Smart Home Appliances comprising of Smart Refrigerators (starting at Rs. 51,990), Smart Air-Conditioners (starting at Rs. 32,999), and Smart Washing Machines (starting at Rs. 23,499) that come with TruWifi technology, allowing consumers to access the appliance from their smartphone – anytime and anywhere. The new products also include the first Android 10.0 Smart TV in India – Motorola Revou Series and Motorola ZX2 Series, at a starting price of Rs. 13,999. These products will be available from October 15, during Flipkart's The Big Billion Days sale-event.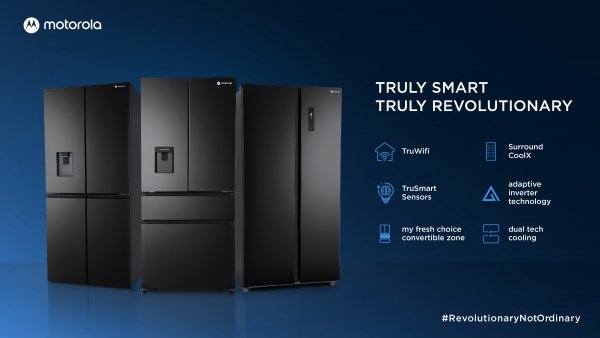 The Motorola Smart Refrigerator range come with features such as customized convertible storage space on demand (fridge mode, drinks mode, soft freezer or freezer) that goes beyond the conventional Freezer to fridge convertible formats. The Adaptive Inverter Technology, coupled with TruSmart Sensors intuitively collects data from the internal load, door usage and ambient temperature sensors to optimize cooling.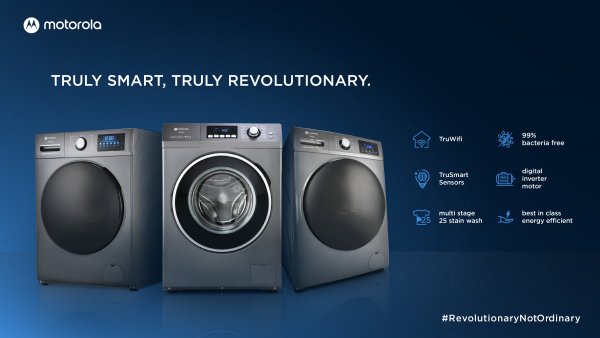 The Motorola Smart Washing Machine range comes with Flexi-wash options to choose your personalized washing preferences, TruSmart sensors with state-of-the-art foam-level, temperature and speed sensing capabilities to deliver a superior wash experience.
Motorola Smart AC comes with intuitive app control and boasts of SurroundCoolX technology providing ultra-fast & all-round cooling through a Dual inverter compressor, 5-speed fan, and 4-way swing.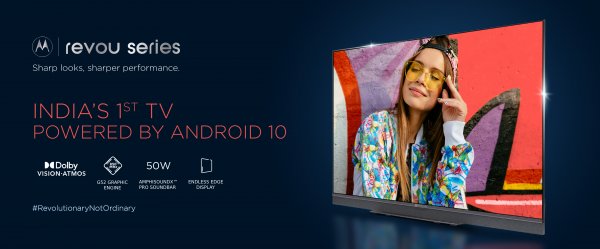 Motorola Android 10.0 Smart TVs come in two series – Motorola Revou and Motorola ZX2 which comes with the combination of Dolby Vision & Dolby Atmos experience in a single form factor. The aforementioned range boasts of superior specs such as Dolby Vision, Dolby Atmos, Linen Finish Integrated Soundbar in 4K range, G52 Graphic Engine, Dual Band WiFi and much more. The Motorola Smart TVs will be available in screen sizes of 32" HD, 40" Full HD, and 43" & 55" 4K resolution.
Detailed Features of Motorola Revou and ZX2 Smart TVs:
Motorola Revou 55″ Ultra HD TV
Motorola Revou 43″ Ultra HD TV
Motorola ZX2 32″ HD Ready TV
Motorola ZX2 40″ Full HD TV
Launch Price
Rs. 40,999
Rs. 30,999
Rs. 13,999
Rs. 19,999
Design
Spacematic Stand – Metal Wire Finish
Spacematic Stand – Metal Wire Finish
Convex Stand
Convex Stand
Dual Tone Swedish Linen Finish Integrated Soundbar
Dual Tone Swedish Linen Finish Integrated Soundbar
100% Side Ports for easy accessibility
100% Side Ports for easy accessibility
Razor Thin Design; Endless Edge Display
Razor Thin Design; Endless Edge Display
Sound Tech.
Dolby Atmos + Dolby Audio + DTS Studio Sound
Dolby Atmos + Dolby Audio + DTS Studio Sound
Dolby Atmos + Dolby Audio + DTS Studio Sound
Dolby Atmos + Dolby Audio + DTS Studio Sound
Sound max. Output / config
50 Watt / 4 units – 2 Speakers + 2 Tweeters
24Watt / 2 units
40Watt / 4 units – 2 Speakers + 2 Tweeters
40Watt / 4 units – 2 Speakers + 2 Tweeters
Processor
CA53 Quad Core @1.5GHz
CA53 Quad Core @1.5GHz
CA53 Quad Core @1.5GHz
CA53 Quad Core @1.5GHz
RAM + ROM
2 GB + 32 GB
2 GB + 32 GB
2 GB + 16 GB
2 GB + 16 GB
GPU
Mali-G52 @ 850MHz
Mali-G52 @ 850MHz
Mali-G52 @ 850MHz
Mali-G52 @ 850MHz
WiFi
2.4 + 5 GHz (Dual Band WiFi)
2.4 + 5 GHz (Dual Band WiFi)
2.4 + 5 GHz (Dual Band WiFi)
2.4 + 5 GHz (Dual Band WiFi)
Motion Enhancement
Response Time Compensation Engine
Response Time Compensation Engine
Response Time Compensation Engine
Response Time Compensation Engine
Picture
Dolby Vision; HDR10; 91% NTSC; Smart Contrast Dimming; Extra Wide Color Gamut
Dolby Vision; HDR10; 91% NTSC; Smart Contrast Dimming; Extra Wide Color Gamut
Dolby Vision; HDR10; Smart Contrast Dimming; Adaptive Gamma
Dolby Vision; HDR10; Smart Contrast Dimming; Adaptive Gamma
O.S.
Android 10.0
Android 10.0
Android 10.0
Android 10.0