Gemopai has unveiled today its latest Ryder SuperMax electric scooter. This is an upgraded version of its low-speed predecessor Ryder. The Ryder SuperMax comes loaded with advanced features. It is powered by a BLDC Hub Motor which delivers a maximum power of 2.7 KW, and can attain a top speed of 60 Km/Hr. This scooter claims to be capable enables to ride along the city lanes upto 100 Kms on a single charge which is pretty good for inter-city commuting.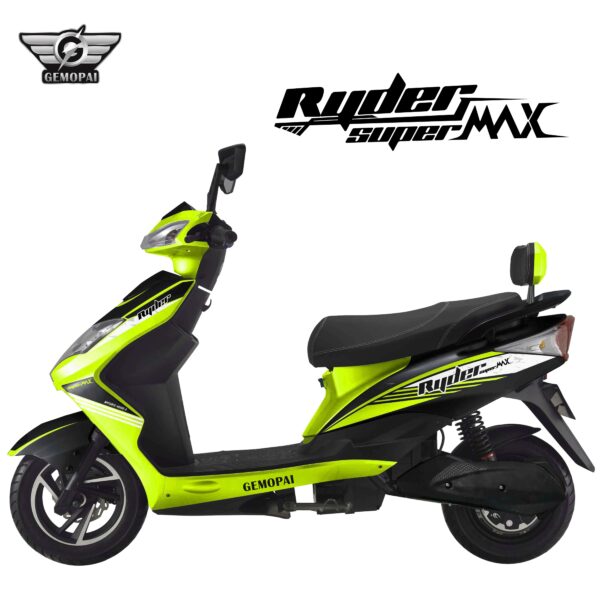 The Ryder SuperMax is equipped with a 1.8 KW portable smart battery pack and a smart charger, both of which are AIS-156 compliant. It also includes app connectivity through the brand's app Gemopai Connect for a safe and enjoyable riding experience. The Gemopai Connect app keeps you connected with your E-Scooter 24×7. It gives real time monitoring and updates regarding the electric scooter and its battery, speed alerts, service reminders and much more.
This scooter is available in six colours – Jazzy Neon, Electric Blue, Blazing Red, Sparkling White, Graphite Grey, and Fluorescent Yellow. Priced at INR 79999, The Ryder SuperMax will be available at all Gemopai showrooms across the country from 10th of March. Alternatively, customers can also book the electric scooter at a booking amount of Rs. 2999 online by visiting the Gemopai website.
"We are thrilled to launch the Ryder SuperMax, which is a testimony to our commitment to providing our customers with the latest technology and superior products, at the most affordable pricing" said Amit Raj Singh, Managing Director & Co-Founder, Gemopai. "With the Ryder SuperMax, we aim to make eco-friendly mobility solutions accessible and affordable to a wider audience."