India's leading electric two-wheeler manufacturer, HOP Electric, today launched the High-Speed variant of its best-selling electric scooter, HOP LEO. The HOP LEO is priced below 1 lac and can be bought from HOP Experience Centers and Online. The scooter is available in five different colours: Black, White, Grey, Blue, and Red, and registration with a green number plate is required.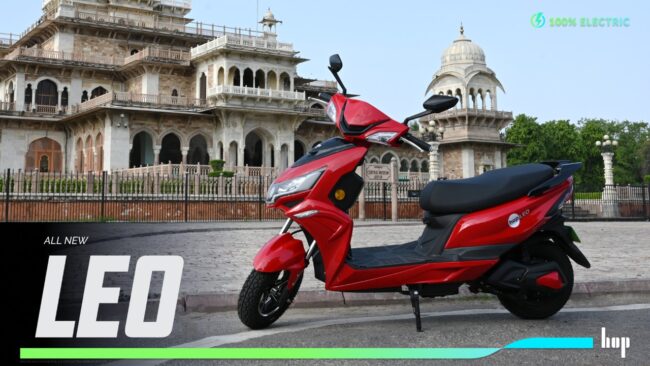 The HOP LEO boasts an impressive true range of 120 Kms. It is powered by eflow technology with voltage architecture of 72 V, the motor power (peak) is 2200 W and the max torque at the wheel is 90 Nm, making it one of the most powerful entry segment electric scooters on the market. The motor type is a BLDC hub motor, and the controller is a Sinusoidal FOC Vector Control, ensuring that the scooter is easy to handle and offers a smooth ride. The battery type is an advanced lithium-ion, with an installed capacity of 2.1 kWh delivering upto 120 Kms per charge. It comes with an 850 W smart charger, and the charging time (0-80%) is 2.5 hours.
The HOP LEO offers four riding modes: Eco-Power-Sport and Reverse mode, and it has a climbing ability of up to 12 degrees. The front suspension is an upright telescopic fork, while the rear suspension is a hydraulic spring-loaded shock absorber. The front and rear brakes are disc-disc with Combi-brake system and regenerative braking. The wheel size is 10 inches for both the front and rear, and the tyre size is 90/90-r10 for both the front and rear. The electric scooter has a ground clearance of 160 mm, and the loading capacity is 160 Kgs. The IP rating is IP 67/65, making it waterproof and dustproof.
The HOP LEO comes with an LCD digital display and does not have connectivity, but a 3rd party GPS tracker is optional.