iQOO had annoucned earlier this week that it is looking for Chief Gaming Officer between the age of 18-25 years. The criterion for the CGO is that gaming must runs through their veins and fuels their passion and who can co-create the best gaming experience on a mobile phone.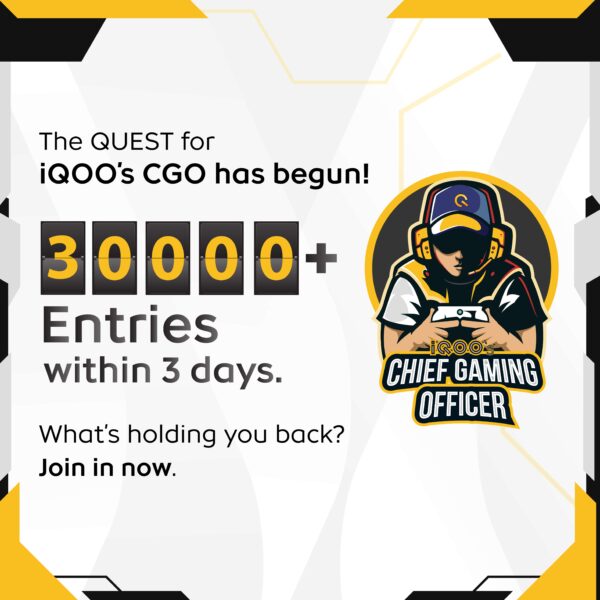 In response to this hunt, IQOO has received an astounding 30,000+ applications within just 3 days of the announcement. Applicants from over 500 cities applied for the first role of its kind, which will work with the iQOO team to tailor the best mobile gaming experience. iQOO's first Chief Gaming Officer (CGO) will get a chance to earn a whopping INR 10 lakhs for an incredible six-month journey.
This role offers a unique opportunity for the CGO to collaborate closely with iQOO's leadership team,
and share groundbreaking insights and ideas that will define the future of gaming. As the CGO, young
gaming enthusiasts will get a once in a lifetime chance to work alongside top-notch gamers across
India, connecting with gaming legends, forming alliances, and pushing the boundaries of gaming
excellence to new heights.
To apply for the CGO role at iQOO, follow these simple steps:

? Visit the official website of iQOO.
? Look for the entry line for the CGO hunt.
? Fill out the required details in the application form.
? After completing the form, take a snapshot of it.
? Submit the application form and the snapshot as per the instructions provided on the website.

iQOO will welcome applications until June 11, 2023.
Excited about the response, Nipun Marya, CEO of iQOO said, "The enthusiasm and response to our
search for iQOO's first Gaming Officer is humbling and yet corroborates our decision to go to the huge
community of young gamers in the country, for a role like this. At iQOO, our endeavour has always
been to make phones that stand out for its performance and esports experience. And for the same we
envisioned this role that will further ignite the gaming community and foster a vibrant gaming
ecosystem for the brand. On behalf of brand iQOO, I would like to express my heartfelt gratitude to
the overwhelming response received from everyone who has applied."