itel has launched the Super Guru Series of smartphones comprising of Super Guru 200, Super Guru 400, and Super Guru 600. The series also features a wear-resistant design for a long-lasting appearance, a powerful speaker for enhanced audio quality, and a clear receiver mode that provides crystal-clear sound as claimed by itel.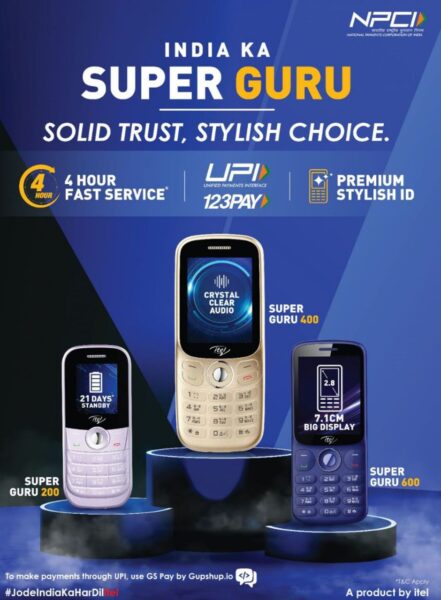 The Super Guru Series offer a range of noteworthy features. One of the standout features of the Super Guru Series is its mobile payment capability, which enables users to effortlessly perform various UPI functions such as sending and receiving money, scanning QR codes for bill payments. The Super Guru Series also include features such as a strong call alert for reliable communication, a strong structural design to withstand daily wear and tear, and enhanced durability for long-lasting usage.
itel Super Guru 400 has an ultra-slim metallic design with a mere 9.8mm depth, and features a big 2.4″ display, 1.3MP camera and a 1200mAh battery offering up to 14 days standby time.
itel Super Guru 200 is packed with 1200mAh battery with exceptional 21-day standby time. It also comes with special metal finish and wear-resistant keypad, 1.3 MP camera and 1.8″ display.
itel Super Guru 600 comes with 2.8″ display, 1900mAh battery with 20-day standby time and 1.3 MP camera.
itel Super Guru 200, 400,600 are priced at INR 1499, 1699 and 1899, respectively.
itel Super Guru Series
Model
Super Guru 600
Super Guru 400
Super Guru 200
Display
2.8"
2.4"
1.8"
Battery
1900mAh
(20 days Standby?
1200mAh
(14 days Standby with Dual SIM)

1200mAh
(21 days Standby with Dual SIM, ? 
Hardware
Dimension: 137x57X10.8mmSim Slot: Slot 1 & Slot 2- StandardChipset: SC6531CProcessor: 312 MHz
Dimension: 128.8x53X9.8mmSim Slot: Slot 1 & Slot 2- StandardChipset: SC6531CProcessor: 312 MHz
Dimension: 118.8x50X12.6mmSim Slot: Slot 1 & Slot 2- StandardChipset: SC6531EProcessor: 208 MHz
ID (Thickness)
Large screen fashion metal plating process design
9.8mm ultra thin with large DECO camera design
Metal plating process effect, P+R wear resistant high quality keypad
Primary Camera
1.3MP
1.3MP
1.3 MP
Connectivity
FM: Wireless FM with recording. Earphone Jack: 3.5mmBluetooth: Yes
FM: Wireless FM with recording. Earphone Jack: 3.5mm,Bluetooth
FM: Wireless FM with recording. Earphone Jack: 3.5mm
Support Languages
English, Hindi, Gujarati, Tamil, Telugu, Bengali, Kannada, Malayalam & Punjabi
English, Hindi, Gujarati, Tamil, Telugu, Bengali, Kannada, Malayalam & Punjabi
English, Hindi, Gujarati, Tamil, Telugu, Bengali, Kannada, Malayalam & Punjabi