Kent RO Systems has launched today next Gen RO Water Purifier -KENT Grand Star which has USP of double UV protection and real-time digital display of purity. KENT Grand star displays the quality of purified water in real time along with displaying key parameters of water purifier like balance filter life, mineral contents in purified water, flow rate of water, warning signals in case of malfunctioning etc. Also warning signs will appear on screen and help the customer in trouble shooting.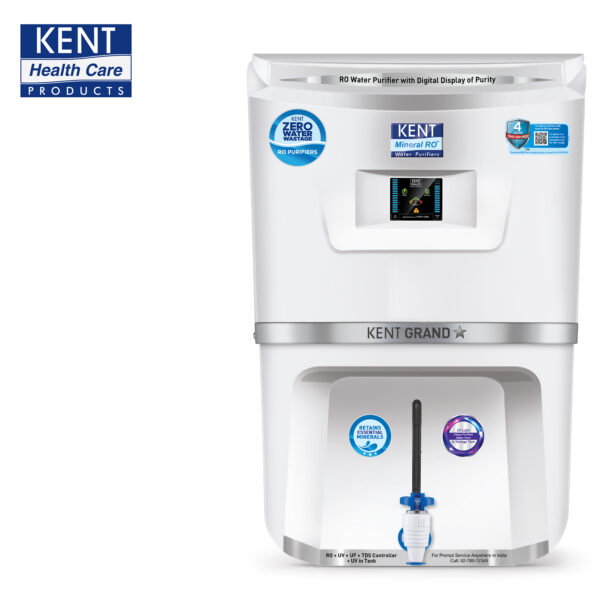 KENT Grand Star features double UV protection. While the UV Filter removes bacteria & viruses during the filtration process, the UV LED in the tank keeps the water in the storage tank pure for longer.
During long periods of non-usage, the stored pure water may get infected again by bacteria & viruses. UV & LED in the tank acts as an extra layer of security and thus ensures that the customer gets 100% pure water at all times.
The multi-stage process of RO+UV+UF+TDS Control UV disinfection in storage tanks makes the drinking water 100% for consumption. The multistage purification process removes even the dissolved impurities such as chemicals, bacteria, viruses, and salts.
This Purifier is also equipped with KENT RO's revolutionary 'Zero Water Wastage Technology.' It recirculates the rejected water to the overhead tank using its own pump, leading to absolutely no wastage of water during the purification process. KENT Grand Star is ideal for purifying brackish, tap and municipal corporation water.
KENT Grand Star is priced at Rs. 21,000 and is available with 3 Years Extended Free Service also after 1 Year Warranty.
Commenting on the advanced technology of this RO water purifier. Dr. Mahesh Gupta, Chairman Kent RO Systems Ltd said "As a true market leader, Kent RO purifiers are designed to upgrade consumer's lives. This model of RO purifiers has been a hit in the market owing to its extensive features. Our aim is to deliver convenience and safety to our consumers. With this the users get 100% pure drinking water. KENT purifiers remove bacteria, viruses, chemicals, and even dissolved impurities such as arsenic, rust, pesticides, and fluorides to make water 100% pure and healthy".