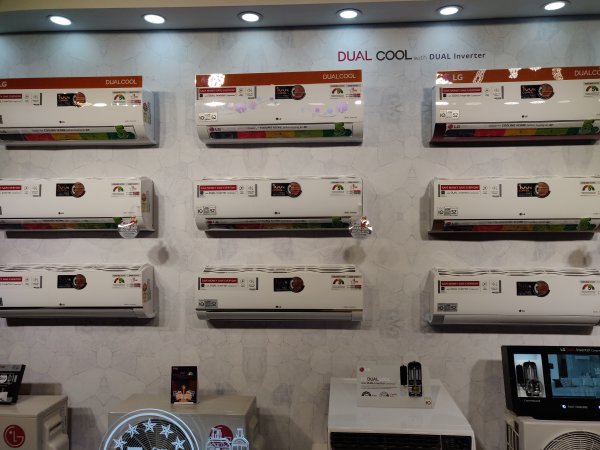 South Korean giant known for innovative home appliances has launched today 54 models of LG Dual Cool inverter airconditioners for homes. These Split and Windows ACs come with 5 & 3-star rating from the Bureau Energy Efficiency and also have high temperature cooling score of 5 and address the need of energy conservation.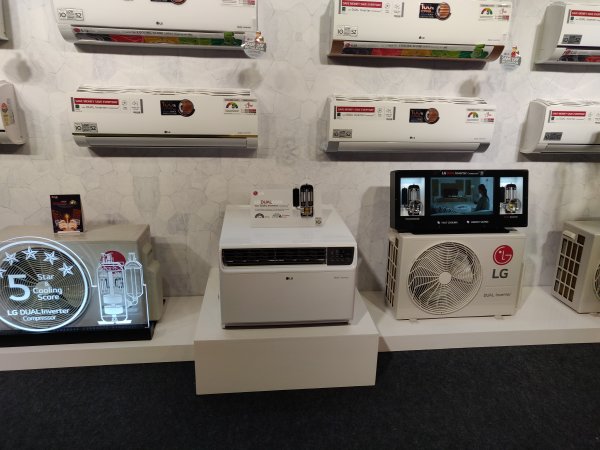 LG Dual Cool Inverter AC range works on variable tonnage technology which adjusts the cooling as per user requirement by controlling the compressor speed. These ACs also come with Smart ThinQ technology, which allows the users to control & monitor AC at anytime and from anywhere with an app on the phone. Apart from control, consumers can also get filter cleaning notification & control multiple home appliances through smart ThinQ. LG's air conditioners are also equipped with Ocean Black Protection which gives long lasting protection against rust and corrosion.
LG's Dual  Inverter Compressor in these ACs incorporate varied speed Dual Rotary Motor with a wider rotational frequency which ensures faster cooling, more efficiency and a drastic reduction in noise and vibration levels. It constantly adjusts the compressor's speed to maintain desired levels of temperature and assured savings – both power and electricity bills. Moreover, this compressor comes with 10 years warranty.
LG's High Temperature Cooling Score is the measure for cooling performance of ACs at high temperature. Where conventional AC's performance deteriorate and score less than 5 at higher ambient temperature, LG DUALCOOL AC's performs far ahead and scores 5.
The new range comes with mosquito away technology that promises to give better protection from mosquito-borne diseases. The ultra-sonic waves are emitted at a specific frequency that reduces the mosquito's ability to sense CO2 exhaled by humans.
LG Air Conditioners save energy by taking advantage of its Active Energy Control feature. This efficiently limits power consumption from 40% to 80% of normal usage and saves up to 57% energy. These ACs come with patented GOLD FINTM Condenser which ensures more resistance to corrosive elements like salty air, rain, dust; and extend durability of the heat exchanger for a much longer period.
Moreover, special Ocean Black Protection is applied to both indoor & outdoor unit for durability for the air conditioner in typical Indian regions affected from sand, salt, industrial smoke & pollutants.
These ACs also come with Micro Dust Protection Filter. The air inside the home contains dust and allergens. These can lead to various respiratory problems as well as allergies. The LG air conditioners come with Double Filtration System that fills the home with clean and hygienic air.
These ACs do not require stabilizers which result in hassle free installation that enhances the aesthetics of the room by having less wiring installation.
These ACs have horizontal and vertical swing action which ensures better airflow while giving uniform cooling.  Unlike conventional ACs where the dust filter cleaning requires a technician. LG DUALCOOL's filter is located on the top of indoor Unit due to which the user can themselves open and clean the filter easily. These range of ACs comes with Laminar Flow design which offers uniform air flow, the Indoor Units are designed with minimal gaps making them pest safe and offers clean air without any fear. These aesthetically appealing ACs are available in Dual Color option to match the room décor.
LG Dual Cool air conditioner range is from Rs. 31,990 to Rs. 69,990.