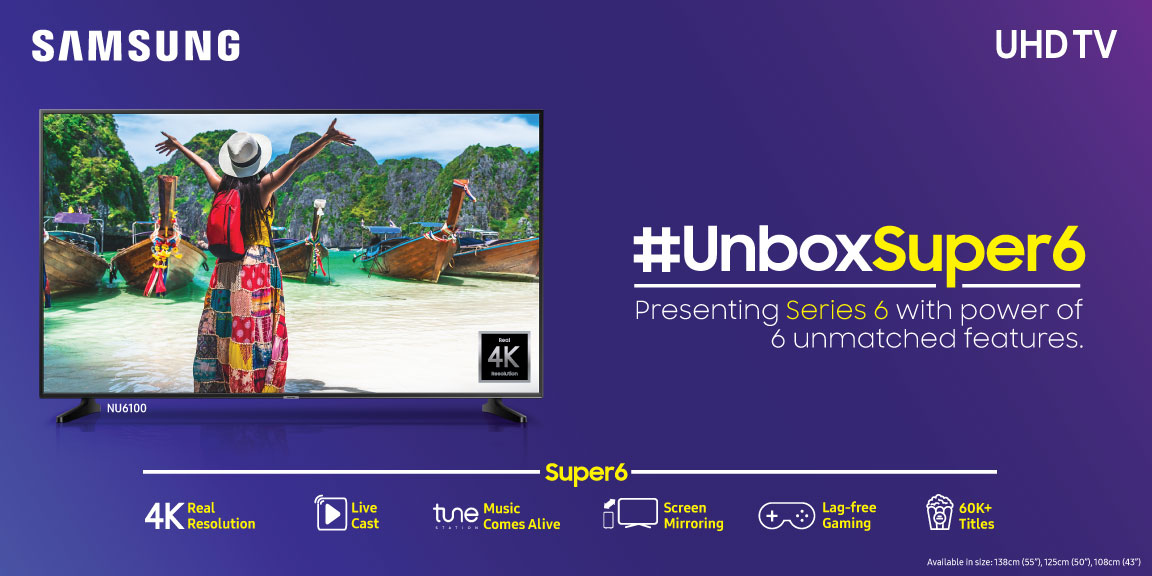 Samsung India has today announced its online exclusive UHD TV line-up with Super6 cool features such as Live Cast, Tune Station, Screen Mirroring, Lag Free Gaming, Real 4K resolution and 60+ Titles. Details of six features are listed below:
The new UHD series of TVs have the power of sharper, crisper images with 4K UHD that has 4X more pixels than FHD TV. The feature also lets you view even the smallest details in every scene. Its new, easy and integrated Smart TV ecosystem delivers an unparalleled entertainment experience.
With Live Cast one can broadcast any live moment from any location on to the TV by using his/her smartphone. The feature enables the consumers to effortlessly share a live stream and further build on the entertainment factor.
Innovative Tune Station feature enhances the overall audio experience by adding realistic visual elements to the playlist, thereby turning the TV into a virtual music system.
Screen mirroring feature allows one to screen mirror the content from phone to TV. It offers assistance to let the smartphone and Smart TV work in sync to maximize the entertainment experience.
These TVs offer the lag-free gaming experience even for high quality graphics. With the Game Mode and Quad Core Processor the new UHD series lets consumers play games on the big screen seamlessly with high-quality graphics of UHD Picture Engine.
These TVs will enable you to enjoy the best of UHD content on a big screen and get immersed in a world of entertainment never seen before. The 60K+ titles encompass of International and National Content in 10+ local languages accompanied with a wide array of content as per consumers' choice.
Samsung's Super 6 Series UHD Line-Up, priced at INR 41,990 for 43", INR 51,990 for 50" and INR 61,990 for 55", will be available from March 12, 2019 on Samsung Shop and e-commerce platforms – Flipkart (43", 50" and 55") and Amazon India (50"). For the limited launch period of March 12 – 14, consumers purchasing on e-commerce channels will be eligible for attractive offers and discounts on the Super 6 UHD series.