LG Electronics India has announced a strategic partnership with ITC Foods, known for branded packaged foods business in India, to redefine cooking experience. As part of the partnership, 2 new microwave ovens are announced with 'Scan to Cook' feature. This will bring together LG's expertise in home appliances and ITC Foods excellence to create a seamless and intuitive cooking environment, making life simpler for consumers. Currently 2 models of microwave are introduced & 7 more models will be introduced by festive season as stated by LG in its press statement.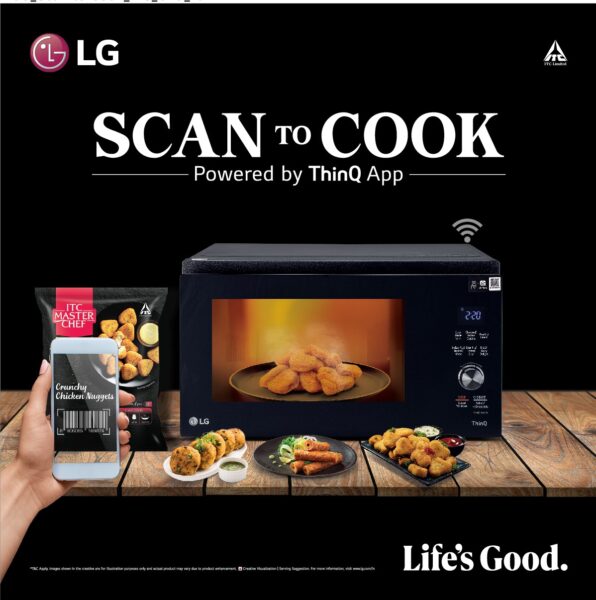 By combining LG's state-of-the-art microwave technology with ITC's expertise in frozen and ready-to-eat (RTE) foods, this collaboration aims to simplify the cooking process while delivering delicious and nutritious snacks/meals. With LG's innovative microwave solutions, smart features and precise controls, consumers will be able to effortlessly prepare their preferred meal while retaining exceptional taste and texture as further stated by LG.
The LG Charcoal Healthy Ovens are wi-fi enabled by LG ThinQ App for convenience of cooking ITC Master Chef Frozen or its RTE foods at the touch of a button. It's a very simple process – Step 1- The consumer can scan the barcode on the ITC Master Chef frozen food packet using the LG ThinQ app. Step 2- User can send ThinQ recommended cooking instruction to the connected oven without manual intervention with MWO buttons to select time, mode, temperature, etc.
Microwave ovens comes in 32 L and 28 L. With the Charcoal range, LG introduces the Healthy Heart Autocook Menu, a collection of thirty heart-friendly recipes certified by the Heart Care Foundation of India. For health conscious people, LG MWO is equipped with Diet Fry feature which helps in preparing the dishes with upto 88% less use of oil. The range is developed based on Indian insights enabling to cook Indian gravies, snacks, Ghee, Pasteurize milk, breads, etc with ease.
Temperature control capabilities have been enhanced, allowing users to cook a wide variety of dishes that were previously challenging to prepare in a microwave. The seamless stream of cooking power preserves the original flavours and textures of the food, ensuring a satisfying cooking experience.
The integration of LG's smart microwave technology with ITC Master Chef Frozen Foods & Ready to Eat Foods will provide users with pre-programmed cooking options, intuitive controls, and optimal temperature settings, resulting in consistently cooked snacks/meals every time. This seamless combination will empower consumers to create delicious, hassle-free dishes, while also offering the flexibility to experiment with their own food creations.
Commenting on the launch, Hyoung Subji – Director- Home Appliances & Air Conditioners at LG Electronics said, "LG Electronics is excited to join hands with ITC Foods in our endeavour to revolutionize cooking with smart microwaves in India. With LG's focus on making cooking smarter and the collaborative efforts of LG and ITC, we are determined to enhance the culinary experience of our customers. We are confident that this partnership will make the lives of consumers simpler than ever before, enabling them to create gourmet-quality meals with ease. Our smart range of Microwaves with Scan to cook feature will simplify lives. This range is also equipped with 401 Auto Cook Menu, pre-set recipes are integrated with ThinQ App. We have a team of 100+ on ground chef providing live cooking demonstrations to customers so that more & more consumers can use this technology."