There are so many great mini keyboards out there so it can be quite hard to find the right one for your career or hobbies. If you're a travelling muscian, home producer or someone who doesn't have a lot of space to dedicate to your craft then you will know how hard it is to find a quality mini keyboard.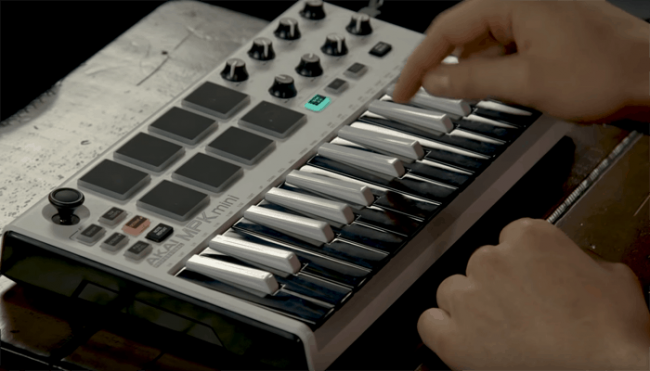 For most people, a midi keyboard is the most important part of their setup and it is something that you cannot scrimp on.
Midi keyboards are an investment and one that can either make or break your music career, which is why they can be so hard to purchase. Luckily, there is some guidance out there to help you on this journey.
What Is The Best Midi Keyboard?
When it comes to midi controllers there are so many different brands and models out there.
Some of these are made to an incredibly high standard and can make music production easier for anyone. However, on the other side, there are some controllers that will simply not cut it and can actually hinder your creative process.
This is why it is so important for you as a musician to go with a trusted brand name when looking into getting a new midi keyboard. Akai Professional is one such name that has a great reputation within the industry.
An Akai midi is one of the best investments you can make for your music production, whether you are just starting in this field or wanting to expand your audience.
The Akai Midi is a professional standard controller that has been made to incredible high quality and feels good to play.
Don't just take our word for it, the Akai Mkii Controller is one of the most popular midi keyboards in the industry.
How To Find A Midi Keyboard
The main attraction to a midi keyboard is the fact they are compact and portable. Whether you are working in a home studio or are a travelling musician, having a controller that is easy to travel with is vital.
The Akai Midi is one of the best keyboards for this reason as it is incredibly lightweight, yet high quality. It comes with a range of great features that can enhance your workflow and make the process even easier – and a whole lot more fun – to get through.
Even though midi controllers are small, they can still pack a punch and are the perfect tool to take on the road with you and use in live gigs. This is one of the best ways to get your music and name out there, so ensuring you have the right tools on hand will allow you to say yes to every gig opportunity that comes your way.
As the Akin Key Controller is smaller than traditional devices, there isn't room for a ton of buttons and controls. This is great news for those looking for a more efficient workflow, as you won't be bogged down with unnecessary controls and instead will have quick access to the buttons you need.
There are a lot of things you can look into when it comes to finding a midi controller and the Akain Key Controller has it all.
What About Software?
All musicians know, the midi controller you use is only as good as the software that it comes with.
Luckily, the Akai Midi comes with the Akai Professional VIP 3.0 virtual instrument software which is some of the best you can get.
This software is designed much like the controller, as it is easy to understand and can enhance workflow by giving you access to everything you need in one compact space.
There is more information about this sofware over at musiccritic.com.
Making The Investment
Purchasing a keyboard controller is an investment and one that will require some time to think about.
The midi controller is the most integral part of your studio as it can impact the kind of music that you create and the quality of your sound.
Midi controllers are great options for so many different musicians, as they are compact and lightweight so you can take your sound on the road.