Renowned chipset maker, MediaTek has announced Helio G85 mobile gaming-focused chipset. The MediaTek Helio G85 packs an Arm Mali-G52 GPU with a peak of 1GHz. It is equipped with MediaTek's proprietary HyperEngine which achieves a Manhattan benchmark score upto 25fps, delivering an ultra-smooth gaming experience. The chipset's octa-core CPU integrates two powerful Arm Cortex-A75 processors that operate at up to 2GHz and six Cortex-A55 processors operating at up to 1.8GHz.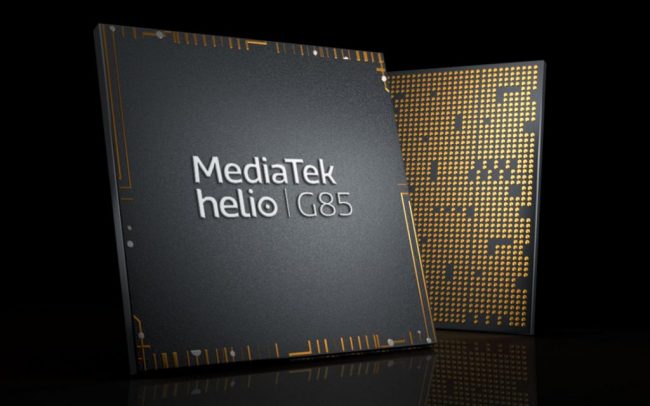 According to MediaTek, the Helio G85 delivers peak performance while maximizing battery life for an incredible gaming experience with dynamic resource management technology. In addition to its HyperEngine technology, the Helio G85 brings devices incredible AI camera features for advanced imaging, integrated voice wake-up (VoW) to minimize power use, inertial navigation for more accurate location information and dual 4G SIM capabilities for reliable connectivity.
Additional features of the Helio G85 include:
· Incredible AICamera: The chipset boosts the performance of AIcamera tasks such as object recognition (Google Lens), smart photo albums, scene detection and segmentation with background removal, as well as bokehshot enhancements.
· Multi-Camera Smartphones with Premium Quality: The Helio G85 gives devices makers the opportunity to create a wide range of multi-camera smartphones for more consumer choice. Device makers can design smartphones with any mix of wide angle, telescopic, macro and sensor sizes up to 48MP. Additionally, the HelioG85 includes a multitude of hardware accelerators, including a hardware depth engine for dual-camera bokeh captures and more. The chipset can also perform ultra-fast recording up to 240fps.
· Integrated Voice Wakeup (VoW): The chipset has built-in VoW capabilities that minimize the power of applications in the Android OS such as the always-on Google Assistant.
· Highly Accurate Inertial Navigation: The HelioG85's inertial navigation technology provides an accurate location whether users are underground, driving through tunnels or in any other situations where GNSS services are unavailable.
· Dual 4G SIM: With its support for dual 4G SIM, the chipset provides exceptional voice and video call quality via VoLTE/ViLTE services, along with enabling a faster connection setup time, more reliable coverage and lower power consumption from either SIM connection.
MediaTek's HelioG family of gaming-optimized solutions includes theG90 Series of Helio G90 and G90T chipsets.