At the recently concluded India Mobile Congress 2023 held in New Delhi, MediaTek showcased its latest technology portfolio from its Dimensity, Filogic, Genio, Kompanio, Pentonic, and Dimensity Auto. MediaTek demonstrated its Dimensity Auto platform that drives the future of intelligent, always-connected vehicles through delivering impressive computing power and wide-ranging technologies. The showcase included MediaTek powered devices across diverse verticals from some of the world's biggest brands.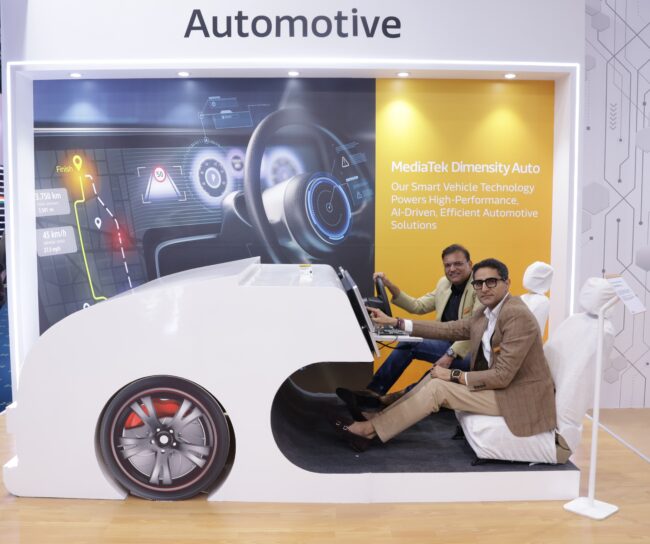 MediaTek Dimensity Auto drives the future of intelligent, always-connected vehicles enabling smart vehicle technology innovation through delivering impressive computing power and comprehensive technologies. MediaTek Dimensity Auto includes Dimensity Auto Cockpit, Dimensity Auto Connect, Dimensity Auto Drive, and Dimensity Auto Components.
MediaTek's 3GPP standards-based 5G Non-Terrestrial Network (NTN) solution brings two-way satellite communications to smartphones and other devices. Some of the devices powered by MediaTek's NTN solutions includes Motorola defy 2 smartphone and Motorola defy satellite link.
The MediaTek Dimensity flagship 5G family includes Dimensity 9200+, 9200, 9000+ and 9000 system-on-chips (SoCs). MediaTek showcased smartphones including the newly launched OPPO Find N3 Flip, Vivo X90 powered by MediaTek Dimensity 9200, OnePlus Nord 3 5G powered by MediaTek Dimensity 9000, Tecno Phantom V Fold powered by MediaTek Dimensity 9000+, Tecno Phantom V Flip powered by MediaTek Dimensity 8050 and Motorola Edge 40 Neo powered by MediaTek Dimensity 7030, among others.
Devices across digital TVs, smart speakers, Wi-Fi routers, arm-based Chromebooks and other smart home products including Primebook, Jiobook, and HP Chromebook, portable projectors from MyBox and Wanbo, Lenovo smart clock, Amazon Echo, Amazon Fire TV Stick, Airoha's Bluetooth headsets and FireBoltt Artilery Fitness Smartwatch, PayTm Soundbox, iMin PoS Terminals and PeopleTech IoT bike powered by MediaTek chipset.
On showcase were connectivity solutions including routers, access points, mesh systems powered by MediaTek Filogic and 5G broadband section powered by MediaTek T750 5G platform which is designed for CPE devices that can provide fixed wireless access in gateways, routers, and mobile hotspot devices.
"At IMC 2023, we showcased our latest smart vehicle technology that powers high-performance, AI-Driven, and efficient automotive solutions along with innovative smart home solutions that are driving the future of intelligent living with fast and reliable connectivity. Through strategic collaborations with Indian and Global Brands, MediaTek is enabling brilliant technology for everyday life. MediaTek showcased a diverse portfolio powered by advanced chipset series such as MediaTek Dimensity, Pentonic, Kompanio, Genio, and Filogic, offering a glimpse into the ever-evolving landscape of technological innovation and connected devices," said Anuj Sidharth, Deputy Director – Marketing & Communication, MediaTek India.