Indian handset maker Micromax has introduced HookUp, a mobile messaging application, which  allows users to exchange pictures, music, videos, send and receive messages and take the advantage of a completely free messaging service.
Micromax's latest Android phone A25 Smarty will incorporate the above feature  through which a HookUp user can send messages to even a non HookUp user free of cost. A25 Smarty users can send up to 330 free messages per month for a year giving full return on the amount paid for the device.
HookUp is deeply integrated with the SMS application, allowing users to have a unified messaging inbox without having to access different applications for specific message content. Hookup comprises of robust features increasing stickiness such as doodle pad, Walkie-Talkie and location sharing. It consumes less memory, minimum battery and Data Usage consumption.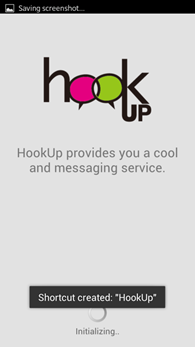 Easy contact list management is also provided with HookUp where in one can easily send invites to new contacts or even choose to keep away from the unwanted ones. If one wants to plan a trip or a party, HookUp is the perfect application to get in touch with all your friends and plan it out through a group chat. The users can receive notifications and View/Manage/Search message and files. Users can enjoy full Instant messaging and "Free SMS" function only after activation of the application.
The HookUp service is free of charge and to activate the service, the user's just need to tap the activation icon and enter his/her mobile number with user name to get started. All one needs to access HookUp is a GPRS connection. Currently HookUp is available on Android and MediaTek platforms. However the free message service is launched for android devices only.
HookUp is currently available on:
A57 Ninja 3.5
A87 Ninja 4.0
Q34
X335