Practo, the leading healthcare platform and Microsoft have partnered to help people search and choose the best doctors in their nearby locality using Bing. Practo's integration with Bing will now help you search & find the best doctors and book appointments with them as per your schedule and for best medical advice.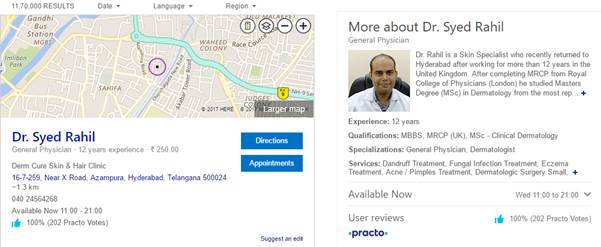 Users will be able to search and access details of doctors across 38 different cities in 10 regional languages including Hindi, Telugu, and Bengali. The new feature will enable Bing users to not just search for the best of doctors in town but also book doctor appointments online, consult online with doctors, order medicines and lab tests, store health records and even read health articles written by these doctors, all powered by Practo.
Bing users searching for doctors in their city can now view profiles of doctors along with their qualifications, experience, specializations, and availability. The feature also enables people to view feedback and recommendations by the patients, thus, assisting users to select the ideal doctor nearby, at their convenience in their city.
Practo is the place which connects to everything that you need to take good take care of yourselves and your families, assessing health issues, finding the right doctor, managing records securely, and finding new ways to live a longer healthier life.