Brand Nothing has launched their another audio product – Nothing Ear Stick. This Ear Stick has half in-ear design and comes in compact cylindrical case which is inspired by cosmetic silhouettes. It has transparent design and the earbuds sit less intrusively in the ear canal for a naturally comfortable fit. It weighs just 4.4g per earbud and will be comfortable to wear for longer duration.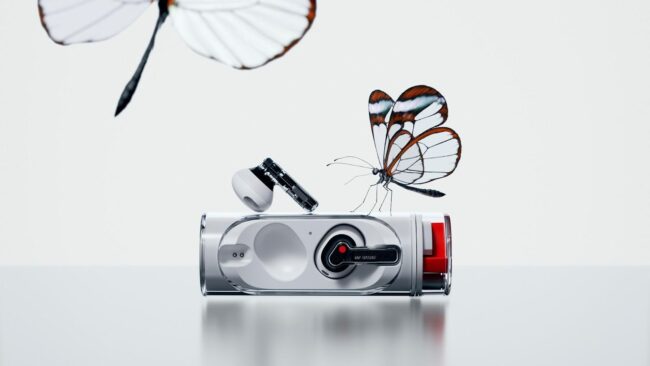 Nothing Ear Stick comes with 12.6mm custom dynamic driver and claims to deliver Vivid Sound with rich depths, clear highs and bold details. The Smart Software detects Bass Lock and the equaliser curve is automatically tuned to the optimal level for the user, delivering perfectly punchy depths. With its Voice Technology, three high definition mics work together with updated algorithms to filter out louder background noises, amplifying your voice for wind-proof and crowd-proof calls. 

Ear (stick) features a redesigned antenna that sits further away from the face to minimise signal blockage. When you game on Nothing smartphone Phone (1), it automatically switches to low lag mode for incredibly precise sound and graphics match. It also connects easily to any Android device with Fast Pair.
For ultra-precise gestures, press controls are located on each earbud and work even when your fingers are wet. Users can effortlessly press on the earbud stem to play, pause, skip tracks, activate voice assistance and change volume. 
All device settings and features are directly integrated into Phone (1) for a seamless experience in Device Details. You can effortlessly customise gesture controls and EQ settings like low, mid, and high frequency levels via Quick Settings. For all other Android and iOS devices, all features are available in the new Nothing X app. 
Ear (stick) offers up to 7 hours of listening time with the earbuds and up to 3 hours of talk time with the earbuds. The case packs another 22 hours of charge. Just 10 minutes in the case delivers up to 2 hours extra listening time.

In India, Ear (stick) will be available from 17 November 2022, on Flipkart and Myntra at INR 8499. To thank its early supporters and community, Nothing India will be announcing exclusive offers for the purchase of Ear (stick).