Alongwith availability of OnePlus 9R 5G, OnePlus has also announced today the second edition of its popular mobile gaming tournament, Dominate 2.0, powered by the OnePlus 9R 5G. Slated to air on 15 April, Dominate 2.0 will see pro gamers and Indian cricketers battle it out in online Call of Duty exhibition matches.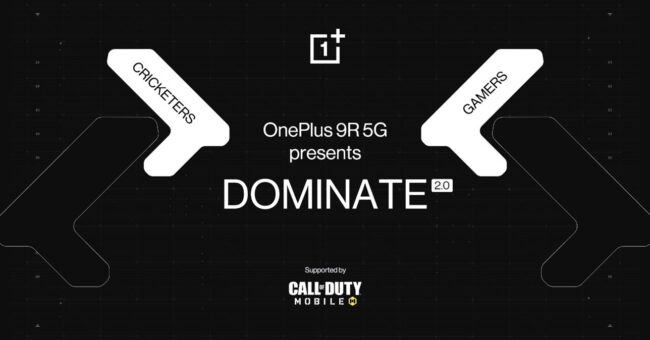 Renowned Indian cricketers such as KL Rahul, Shreyas Iyer, Smriti Mandhana, and Yuzvendra Chahal, alongside pro gamers like Techno Gamerz, Payal Gaming, Mortal, and Mythpat, will captain teams in the tournament. Returning for his second spell, KL Rahul, professional Indian cricketer, said, "With Dominate 2.0, OnePlus has built a unique engagement opportunity for the entire OnePlus community, and I am excited to be part of this project for the second time. I am looking forward to some great gaming sessions with my fellow contenders and having a memorable experience."
Commenting on Dominate 2.0, Vikas Agarwal, General Manager, OnePlus India, said, "At OnePlus, we have continuously worked towards curating unique and innovative experiencers for our community. Last year's Domin8 tournament saw tremendous response from our community, and we wanted to bring the fun experience of engaging with gamers and cricketers to our users once again. I hope that our community will wholeheartedly take part in Dominate 2.0 and have a fun time."
"Being part of the first edition of Dominate, I had a wonderful time gaming alongside the best gamers in the country. I look forward to experiencing gaming on the brand-new OnePlus 9R 5G and exploring what it has to offer," said Smriti Mandhana, professional Indian cricketer and winner of the Domin8 2020 edition.
Community members and gaming enthusiasts alike can tune into OnePlus India's official YouTube channel, to watch the excitement which begins at 3:00 PM IST on 15th April.