Oppo has announced today that they will be unveiling OPPO Band Style alongwith Oppo F19 series of smartphones on 8th March in India. This fitness band comes with features of continuous SpO2 monitoring, breathing quality assessment even during sleep and more.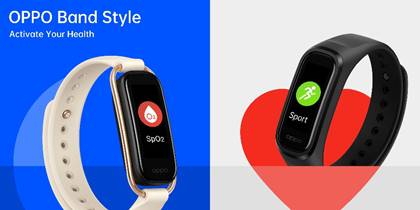 The OPPO Band Style has health monitoring function which is specifically designed to detect sleep problems. It supports accurate sleep monitoring, heart rate monitoring, and continuous SpO2 monitoring—providing all-around records and analysis of its user's sleep health.
The continuous SpO2 monitoring is made possible via a built-in optical blood oxygen sensor. This component enables the OPPO Band Style to continuously monitor blood oxygen saturation per second when the user is asleep. During an eight-hour sleep cycle, it conducts non-stop SpO2 monitoring 28,800 times—fully measuring the user's body oxygen saturation. With its continuous SpO2 monitor and professional sleep monitor, the OPPO Band Style can help users develop healthier sleep habits, help monitor their heart health, respiratory health.
The OPPO Band Style has 12 built-in workout modes, including running, walking, cycling, swimming, badminton, cricket, Yoga, etc., covering most of the sports that are popular among young people. With the OPPO Band Style recording the exercising data, users can check their progress in the HeyTap Health app, which is key to boosting motivation for an active life.
This Band comes with a host of other features which will be detailed on 8th March. Pricing and complete specification of the OPPO Band Style will also be revealed on March 8, 2020.