OPPO will be launching Enco X True Wireless Noise Cancelling Earphones along with the videography enriched OPPO Reno5 Pro 5G in India on 18th January 2021.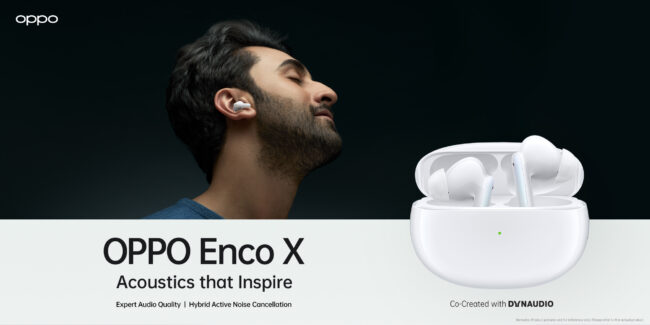 The OPPO Enco X has a dual microphone design and is claimed to provide active noise cancelling with multiple modes allowing the users to customize and choose the strength of noise reduction to better fit their daily listening needs through the four different settings: Max Noise Cancellation, Noise Cancellation, Transparency Mode, and Noise Cancellation Off. These settings allow users to block out the outside world whether indoors or outdoors and focus on what they are listening to. Each mode gives users the freedom to adapt to different scenarios and still have a crystal-clear audio experience as stated by Oppo.
The OPPO Enco X True Wireless Noise Cancelling Earphones are equipped with OPPO's DBEE 3.0 Sound System and LHDC (low latency and high-definition audio codec) wireless transmission. This technology enables users to have distinct and detailed levels of sound in any given scenario.
In 2007, OPPO developed the DBEE 1.0 dynamic enhancement engine for its MP3 products. Now in 2021, OPPO has created all new "DBEE 3.0 Acoustic System". The DBEE 3.0 comes with coaxial dual-driver usually found in high-end audio equipment.
These earphones have a classic design and are comfortable & easy to fit. The dual-driver of these earphones is paired with parallel dual speakers supported by LHDC low-latency wireless transmission. LHDC is a coding technology that wirelessly transmits high-resolution audio, which produces a stronger audio density and gives a well-rounded audio with natural depth. Additionally, it ensures a seamless audio transmission with accurate speed and data volume.
Co-created by OPPO and leading Danish HiFi brand, Dynaudio, the OPPO Enco X True Wireless Noise Cancelling Earphones are set to deliver the perfect combination of OPPO's mastery of acoustics and the European audio giant Dynaudio's expertise.
The OPPO Enco X True Wireless Noise Cancelling Earphones will be introduced along with the videography expert OPPO Reno5 Pro 5G that will feature the industry first process, Reno Glow – a unique AG glass process designed by OPPO to deliver a glittery visual effect with a matte finish. The Reno Glow process will make the smartphone shimmer like millions of diamonds embedded into a moonlit ocean while keeping the back-cover fingerprint-resistant.