Oppo has today unveiled its groundbreaking technology at MWC in Shanghai. These are Under-Screen Camera (USC) which offers "real full screen" user experience and MeshTalk technology for text and voice call without cellular networks, Wi-Fi or Bluetooth between Oppo devices.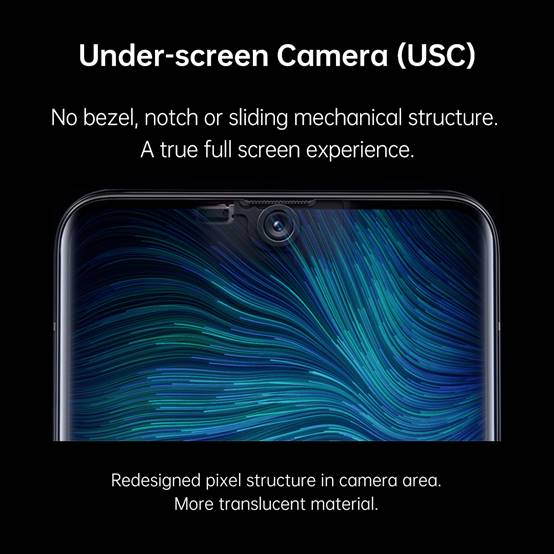 USC is OPPO's latest innovation in new-generation smartphone form factor. By integrating the front camera and the screen, USC provides users with a complete view, an immersive screen and an integrated body. It also enables users to see and capture the entire screen, take photos, use face unlock and make video calls.
USC features a customized camera module that captures more light; zoning control is employed on the screen, together with "highly-transparent" material that enhances transmittance of light through the screen. Besides, through OPPO's customized algorithm, haze removal algorithm and white balance algorithm, USC can enable complete photography experience and support features like smart beauty mode and photo filers in the future.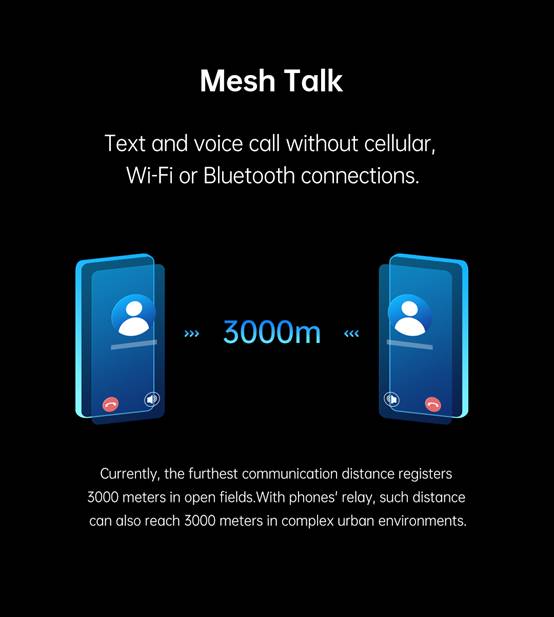 MeshTalk is a new proprietary decentralized communications technology that enables the transmission of texts, voice messages and real-time voice calls between OPPO devices within a range of 3km without cellular networks, Wi-Fi or Bluetooth.
The technology also allows multiple devices to create ad hoc local area networks (LAN), enabling group chat capabilities and expanding communication range via signal relay. MeshTalk supports LAN communications wherever OPPO devices are within signal range of one another.
To develop its MeshTalk technology, OPPO customized the communication chipset to realize the advantages of lower power consumption and longer distance. MeshTalk is an innovative end-to-end communications and mesh communications solution for mobilephone solution that empowers users with a higher level of privacy. Hence, MeshTalk is expected to realize more comprehensive applications in extreme environments, emergency communications and some outdoor environments as stated by OPPO.
In addition to debuting its two innovative technologies, OPPO also exhibited its latest achievements in 5G and IoT – OPPO Reno 5G can load large-scale mobile games in the cloud via a 5G network, enabling users to enjoy 5G cloud gaming. In the IoT Smart Home Zone, OPPO featured its IoT open platform, which is compatible with products across more than 20 categories, including more than 260 devices from a variety of brands.