Pioneer India has launched Smart Unit Receiver SDA-835TAB and SPH-T20BT priced at Rs. 33,890 which is cutting-edge in-car infotainment system. This system runs on Android OS 9 and comes with magnificent display, best-in-class audio quality, high-end safety features, and plethora of navigation and entertainment apps ready to download.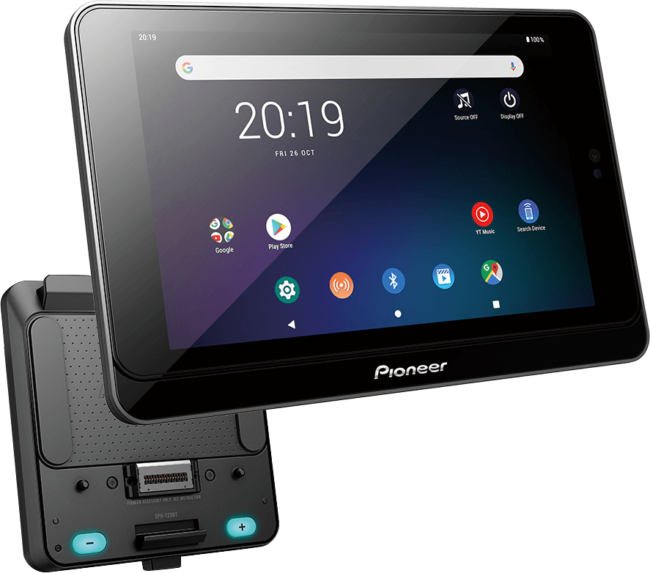 The SDA-835TAB tablet has 8 inch high-resolution capacitive screen display with 1280×800 pixels resolution. This is the first of its kind Multi-purpose tablet which can be used both inside and outside the vehicle making it more versatile in its use. The tablet has certified access to genuine Android OS and comes with pre-installed apps such as Google Maps, YouTube, Gmail, Pioneer's unique app "Pioneer Smart Sync app" & more. These apps can be updated regularly as long as the gadget is connected to a network. It allows usual radio and Bluetooth connectivity to play music and users can also use music streaming apps and more on it.
This tablet can be used from back seat of car for entertainment during long drives. It is packed with 4000mAh battery for long hours of uninterrupted entertainment and is powered by the ARM Quad core Cortex-A7 processor.
The audio receiver, SPH-T20BT has a 2-DIN receiver equipped with tablet mount cradle, MOSFET 50Wx4 ampli?er, 3 RCA preout, a rear camera input and all the features needed in an advanced car receiver. It also has a video output for connecting rear screens, wired Remote for connecting steering wheel control & great audio tuning settings, making it a great support for the tablet.
This system uses Pioneer car audio technology that allows users to connect to the receiver and play compressed audio with the Advanced Sound Retriever. The sound quality with even compressed audio is so clear that it can be compared to that of CDs. It also gives users the choice to fine-tune the sound with 13 Band Equalizer & other tuning features as claimed by the company.
For safety, this system connects to the universal rear-view camera (optional). The rear camera footage automatically displays, when shift to rear. It also connects to Pioneer optional parking sensors (ND-PS1). When in detachable mode, the tablet also works as an Anti-theft device.