At a business briefing to Canadian Prime Minister Justin Trudeau during his first official trip to India, IMAX Corporation and PVR Cinemas announced an agreement for five new IMAX theatres in India. In attendance were Mr. Ajay Bijli, Managing Director and Chairman of PVR Cinemas, and Mr. John Schreiner, Senior Vice President of Theatre Development, Russia, CIS, Middle East and India of IMAX Corporation, who provided details on their business partnership to the Prime Minister.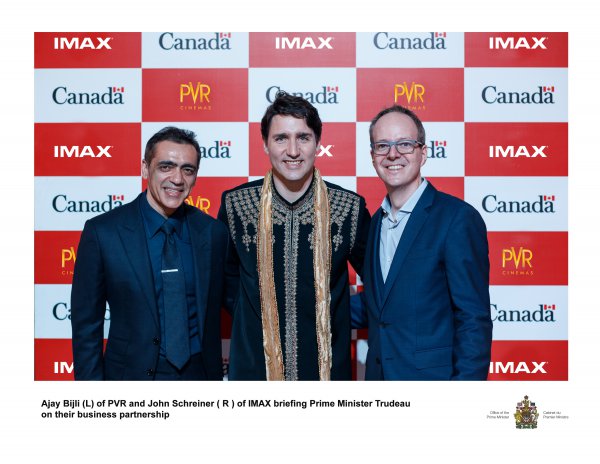 The new IMAX theatres will be located in major metropolitan markets in a combination of new and existing flagship sites. The agreement brings PVR Cinemas' total IMAX commitment to 15 theatres and strengthens the exhibitor's position as IMAX's largest partner in India. This agreement also brings IMAX's total theatre footprint in India to 31: With 14 currently open and 17 contracted to open.
"Our agreement is a direct result of the success of our IMAX box office, which, since 2016, has increased by 50% as the demand for IMAX among moviegoers continues to build," said Mr. Ajay Bijli. "We are delighted to strengthen our longstanding, successful partnership with IMAX, which we view as a competitive advantage to help solidify our leading position in India's exhibition market."
In January, IMAX released Viacom18 Motion Pictures' film Padmaavat, which marked the fourth local-language IMAX Indian film release and the first to be presented in the IMAX 3D format. Padmaavat is now the company's highest-grossing local Indian release and third highest-grossing IMAX film overall in the country. The company expects to announce more Indian IMAX movies for this year.
PVR operates a cinema circuit of 625 screens at 134 properties in 51 cities with seven IMAX screens in Delhi, Gurugram, Mumbai, Bengaluru and Noida that are among India's top-performing IMAX theatres of 2017.