Qualcomm has introduced four new mobile platforms – Snapdragon 778G Plus 5G, 695 5G, 480 Plus 5G, and 680 4G for high, mid and entry level smartphones. Qualcomm claims that these 5G and 4G mobile platforms will enable increased performance and capabilities to provide OEMs with additional options to help meet the existing demand.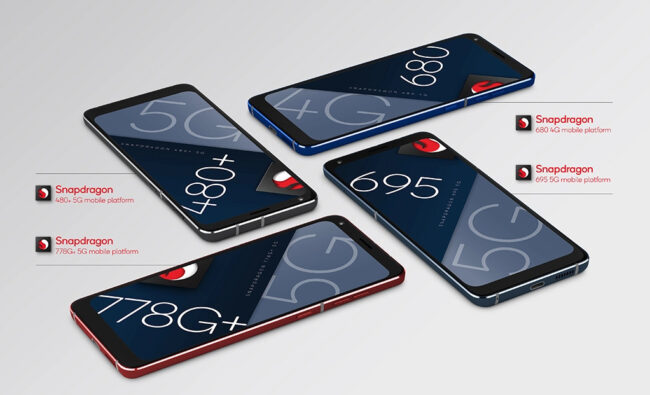 Snapdragon 778G Plus 5G Mobile Platform is a follow-on to Snapdragon 778G with boosted GPU and CPU performance. It is designed to deliver cutting-edge mobile gaming and accelerated artificial intelligence (AI) to enable stunning photo and video experiences.
Snapdragon 695 5G Mobile Platform delivers truly global 5G with support for both mmWave and sub-6 GHz. This platform features up to 30% faster graphics rendering and 15% improvement in CPU performance (compared to Snapdragon 690), which enables immersive gaming, high-end capture, and increased productivity.
Snapdragon 480 Plus 5G Mobile Platform is improved version of Snapdragon 480 for entry level smartphones. Snapdragon 480 Plus will help drive further proliferation of 5G, allowing users access to truly global 5G connectivity and boosted performance to power in-demand productivity and entertainment experiences.
Snapdragon 680 4G Mobile Platform is built on 6nm process technology and is designed to deliver compelling all-day experiences, including optimized gaming and triple ISP featuring AI-enhanced low light capture technology. As 5G adoption continues to commercialize around the world, Snapdragon 680 helps address the continued demand for incredible LTE experiences.
Leading smartphone vendors such as HMD Global, Oppo, Vivo, Xiaomi, Honor and Motorola have evinced interest in these new Mobile Platforms and we should see lot of phones coming equipped with new chipsets of Snapdragon very soon.