Sharp has announced the launch of portable Car Purifier IG-GC2. The highlight of Sharp Car Air Purifier IG-GC2 it that it is equipped with Plasmacluster technology. This technology enables the purifier to dispatch the ions to each and every corner of the car which result in reaching out to the source of the hidden smell in the mat, ceiling, seat covers and dashboard; destroying them not only form the air, but even from the surface.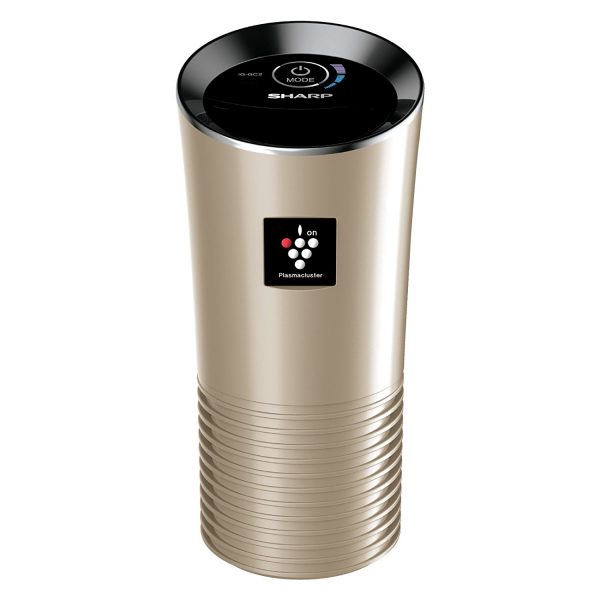 This car purifier comes with washable PM10 filter which ensures that most road dust particles that penetrate the AC filter can also be trapped which makes drive safe and pleasurable. This car purifer is claimed to have no recurring cost and can be used for up to 19000 hours or 10 years.
This purifier has front-tilt cylindrical design and adjustable lower angle; it comes with 2-port USB car adapter to charge the device. The purifier also combats the dangers posed by exposure to VOCs, PBDEs and phthalates in your car. It weighs approximately 265g (excluding accessories) and has a capacity of approximately 3.6m3 applicable for high-density. It has an approximate ion density of 75,000/25,000/7,000 ions/cm3 with a 3 (Turbo/Med/Low) operation mode. With the quiet design and standard air flow, the purifier is barely audible even in a hybrid car.
According to Sharp, Plasmacluster Technology is for next generation of Air Purifiers. They work by using an electrical discharge to create both Positive and Negative ions, which are then surrounded in water and then released into the air. This process can clean the air and surface from irritants including dust, fungi, viruses, pollen, smell, gases and mould apart from improving skin texture. These high density Plasmacluster have been proven to be safe and effective by 28 independent labs. Sharp's Plasmacluster technology has already earned accolades when it announced the sales of 70 million units, the highest in air purifications.
Commenting on the launch, Mr Shuvendu Mazumdar, National Manager- SHARP Air Purifier Business said: "The beer glass design makes it easy to handle and the colour options of Champagne Gold & Black makes it perfect to compliment the car décor. The built and design speaks about Japanese commitment towards quality. The fan is placed on the level with the air suction channel to allow effective flow of air into the cabin. One may adjust the fan speed from low, medium to high depending on the size of the car and the intensity of the smell. Thankfully, we can now stop using perfumes and depend on the Sharp IG-GC2E to make our drive pleasurable."
The Sharp IG-GC2 is priced at Rs. 12000 and is available in major cities across India through online & Offline partners.