Sony India today launched 85 inch television under its BRAVIA XR X95L Mini LED series. Powered by the Cognitive Processor XR, the TV encompasses XR Backlight Master Drive, which precisely controls the latest generation Mini LED backlight for incredible brightness. According to Sony, the newly launched TV has an unprecedented dynamic range with incredibly dazzling lights and deep blacks for showing actual colors.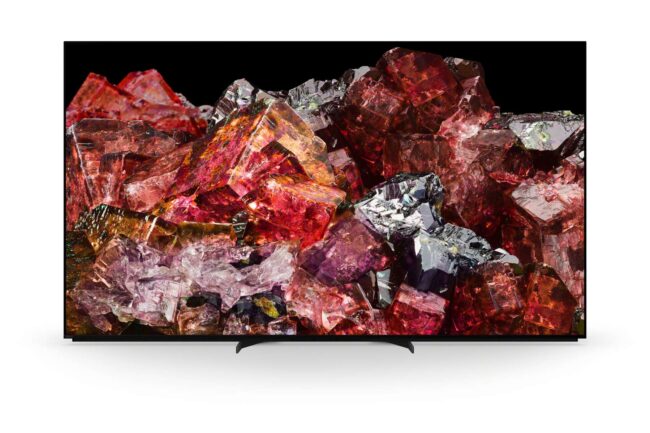 The X95L television is powered by Next Gen Cognitive Processor XR which reproduces content the way humans see and hear for an incredibly lifelike experience. It understands how the human eye focuses, cross-analyzing images to give real-life depth, extraordinary contrast, and beautifully vivid colours. The television offers exceptional contrast from a 4K Mini LED screen that's controlled by XR Backlight Master Drive technology to deliver dynamic range like never before. You can see incredibly deep blacks and dazzling lights, as well as beautifully natural mid-tones, without flare or halos around highlights.
The BRAVIA XR 85X95L television comprises a unique XR Backlight Master Drive, that utilizes a unique local dimming algorithm to control thousands of tiny, high-dense Mini LEDs with absolute precision and independence. The scenes are full of dazzling lights, deep blacks, and natural mid-tones. By precisely balancing the light output across the screen, dimming some areas, and boosting others, XR Contrast Booster adjusts brightness for higher peaks in glare and deeper blacks in shadow. As bright areas are brighter and dark areas darker, scenes look more real with extra depth and detail.
The 85X95L television encompasses XR 4K upscaling technology so that you can enjoy entertainment close to 4K quality, whatever the content or source. The Cognitive Processor XR accesses a vast amount of data, intelligently recreating lost textures and detail for real-world pictures. On one hand, XR Clear Image reduces noise by utilizing zone division and dynamic frame analysis and minimizes blur. Whereas, on the other hand, XR Motion Clarity technology combats blur by detecting and cross-analyzing key visual elements on successive frames. It creates and inserts extra frames between the original ones so you can enjoy smooth and clear action, even in fast-moving sequences.
It is sometimes difficult to watch dark movies in a bright room due to screen reflection. The XR Mini LED comes loaded with X-Anti Reflection reduces glare caused by sun or lamp light so you can see pure blacks in brightness and enjoy clear pictures without distraction. Watching TV from the sides is now as satisfying as from the center. Sony's original optical design to control light from the backlight, the X-Wide Angle panel ensures colours stay true from wherever you are watching.
The new BRAVIA 85X95L Mini LED television is powered with Dolby Vision and with Dolby Atmos, sound from the new 4K television comes from above as well as from the sides so you can hear objects moving overhead with more realism for a truly multi-dimensional experience. The Netflix Adaptive Calibrated Mode works with BRAVIA XR's ambient light optimization, adjusting the picture brightness of your favorite Netflix shows to room lighting conditions and production edit
This TV is also an enormous gaming machine and perfect for PlayStation 5. BRAVIA XR automatically recognizes The PS5 and switches into a Game mode to minimize input lag and selects the best HDR setting for your television accordingly resulting making the action more responsive. Auto HDR Tone Mapping will be optimized instantly during your PS5 console's initial setup and you will see the crucial details and colors in the brightest and darkest parts of the screen. When watching movies on PlayStation5 consoles, it switches back to standard mode to focus on picture processing for more expressive scenes. With Auto Low Latency Mode, you can enjoy smoother gaming, which is vital for fast-moving, high-intensity games.
The BRAVIA TVs include an easy-to-use Game Menu where gamers can tailor their settings to their preferences, such as turning on or off VRR or Motion Blur Reduction with quick access. The Game Menu also allows users to increase the brightness in dark areas to easily spot objects and opponents with the black equalizer and can easily take aim at their opponents with six types of crosshairs.
The 85X95L television offers a smart user experience with Google TV which offers endless entertainment through 10,000+ Apps & games along with 700,000+ Movies and TV series. It also works seamlessly with Apple AirPlay and HomeKit that seamlessly integrates Apple devices like iPads and iPhones with the TV for effortless content streaming.
With Hands-Free Voice Search feature, you can interact with the TV to play your favorite shows and movies. The built-in microphones on the television will allow viewers to have a truly hands-free experience. Viewers can simply talk to the television using Google Assistant to find what they want quickly or to play televisions shows, movies, and more without using the TV remote.
The BRAVIA Core app is a pre-loaded movie service that allows for redemption of 10 current releases and classic blockbusters films with unlimited streaming of top movies. It gives you access to a large library of Sony Picture's movies available to stream in near 4K Blu-ray technology.
You can connect BRAVIA TV with BRAVIA CAM, sold separately, for an even more immersive viewing experience. BRAVIA CAM recognizes where you are in the room and how far you are from the TV, then adjusts sound and picture settings so they're just right. You can also enjoy an array of fun new TV experiences with BRAVIA CAM including gesture controls, you can also catch up with your friends and family on the big screen via google meet feature.
Acoustic Multi-Audio+ on the X95L now incorporates Frame Tweeters to strengthen vocal clarity and improve sound positioning. The Frame Tweeter vibrates the frame, projecting sound forwards. By evaluating the position of all speakers, the sound is perfectly balanced. XR Surround virtually creates surround sound from the sides and vertically using just the TV speakers, so you can experience 3D audio without the need for in-ceiling or up-firing speakers. With Acoustic Centre Sync, you can turn both your compatible BRAVIA and the soundbar into a center speaker.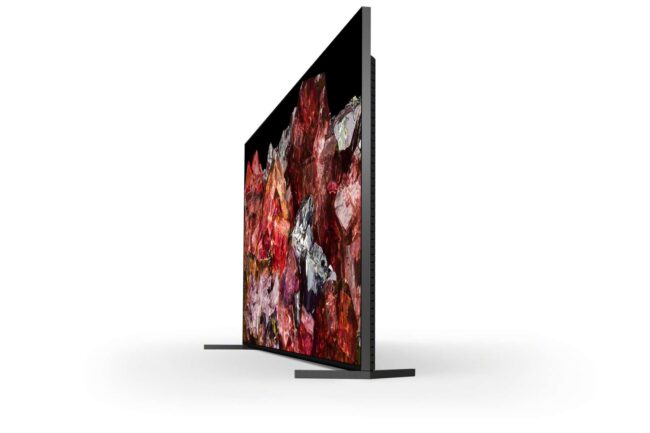 The minimalist one-slate design of 85X95L with seamless edge features a single pane of tempered glass in a minimized bezel to keep you focused on the picture. The design also comes with a 3-way multi-position stand gives you the choice of a standard setting that focuses you more on the picture, a narrow setting for smaller shelves, and a soundbar setting for the ideal positioning of your sound system. It also comes with cable holders that keep wires neatly hidden so your television stays free of clutter and looks good from the front, sides, and back.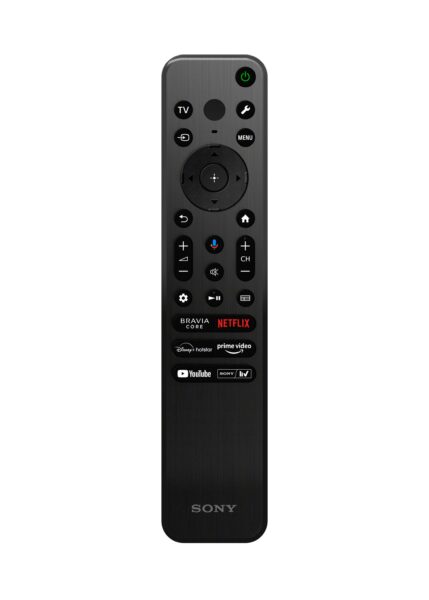 The 85X95L comes with a small and easy-to-use remote control with six partner keys (Bravia Core, Netflix, Disney Hotstar, Youtube, Sony Liv and Amazon Prime) to access the favorite content. With a flush surface featuring lower buttons and a special polyurethane coating, the remote is easy to wipe and keep clean. All buttons are specially coated with antibacterial material.
The new BRAVIA 85X95L TV includes the new and improved X-Protection PRO technology made to last. Not only are they equipped with superior dust and humidity protection but also pass the highest standards of Sony's lightning tests, meaning your TV is safeguarded from lightning strikes and power surges. This TV has been designed with the environment in mind.
Priced at INR 599990, This TV is now available across all Sony Centers, major electronic stores, and e-commerce portals in India.