Suzuki Motorcycle has today launched their global flagship Motocross bikes – RM-Z450 and RM-Z250 in India which are designed specifically to promise an exhilarating off-roading experience to the riders.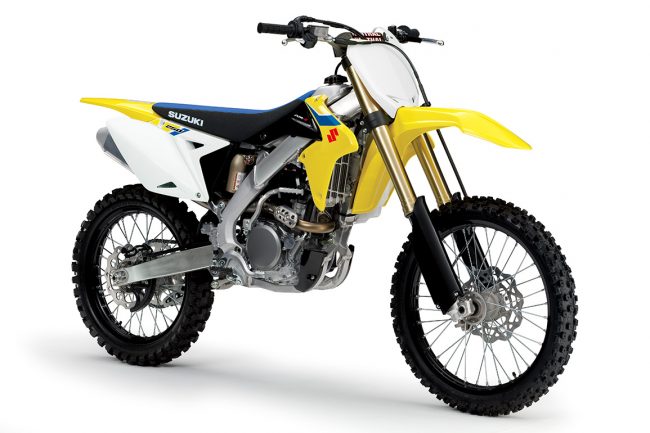 The 2019 variant of RM-Z450 is powered with the 449 cm, 4-stroke, fuel injected, DOHC engine for a faster yet controllable throttle response. It comes equipped with Suzuki Holeshot Assist Control (S-HAC) which has three selectable modes to choose the best option as per road condition. The RM-Z450 is the first motocross bike to adopt new balance free rear cushion (BFRC) technology ensuring excellent traction and better shock absorption offering high responsiveness on the track.
Similarly, Suzuki the 2018 RM-Z250 is powered with a 249cm, 4-stroke, fuel injected, DOHC engine with a compact and lightweight design powers the engine's winning performance. The bike comes equipped with Fuel Injection (FI) system and aluminium rims, which are made specifically to withstand rugged racing environments, including Supercross, Motocross and off-roading condition.
The 2019 RM-Z450 has slim styling for enabling the rider to easily shift his/her weight and manoeuvre effortlessly and the RM-Z250 harps on innovative technology and engineering updates. The RMZ series is a fine machine that embodies Suzuki's 40 years of engineering excellence making it hard-hitting on the track, allowing sharpest handling, great balance and most rider friendly position to conquer corners and blistering straights, easily.
These motocross bikes come in Champion Yellow colour. The RM-Z250 and RM-Z450 will be available across selected Suzuki dealerships and will be priced at INR 7,10,000 (ex-showroom Delhi) and INR 8,31,000 (ex-showroom Delhi), respectively.
Commenting on the launch of RMZ series, Mr. Satoshi Uchida, Managing Director, Suzuki Motorcycle India Pvt. Ltd., said, "Over the past few years, we have witnessed a great spur in the off-roading and adventurous riding experiences among Indian riders. Paying attention to this rising demand in the racing and adventure category, we are thrilled to launch these purpose-built motorcycles, RM-Z450 and RM-250. The bikes boast of great performance, distinctive design, and agility that is unique to RMZ series, offering great handling and control to riders."