TCL Multimedia has launched today iFFALCON branded smart TVs in India in three screen sizes of 32, 40 and 55 inches. These TVs are powered by Android 7.0 Nougat and these three TVs are – iFFALCON 32F2 priced at Rs. 13499,  iFFALCON 40F2 at INR 19,999 and FFALCON 55K2A at Rs. 45,999. These TVs will be available exclusively on Flipkart from 7th May.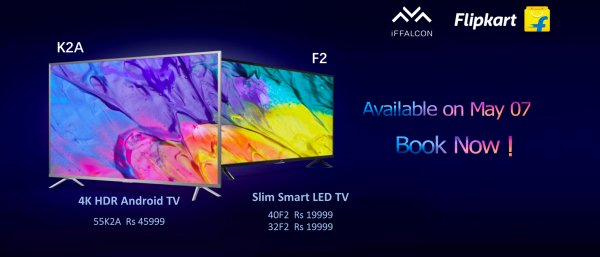 The iFFALCON 55K2A is flagship offering with 4K UHD display with 3,840 x 2,160 pixels resolution. It is equipped with Micro Dimming technology and features such as white LED HD backlight – a landmark development in LED HD backlight technology which drastically enhances the colour gamut and provides more dynamic colour contrast as claimed by the company. It also has Dolby 5.1 Surround Sound and advanced DTS post-processing technology for better sound quality. Its Smart Volume feature automatically adjusts the volume to eliminate sudden sound fluctuations typically experienced when switching channels or when television commercials air, while also automatically detecting the type of content you are watching – sports, news, movies, etc. – and adjusting the sound setting to it.
This TV has features such as task switching, picture-in-picture, and in-built Google Chromecast. It also allows users to install apps from other devices through its multiple platform sync feature, in addition to enabling sign-ins from several Google accounts. Users also have the option of using Google Voice Search by simply pressing a button on their remotes and giving a voice input, thus eliminating the need for complicated navigation and tiresome typing.
It is powered by quad-core CPU and dual-core GPU, and has 2.56 GB RAM and 16 GB internal storage. It has a 2.4 GHz+5GHz dual-band WiFi support for seamless online streaming. Entertainment apps such as Hotstar, YouTube, Netflix, YuppTV, Google Play Movies & TV, Eros Now, and Voot are available for download through the Google Play store on this TV while JioCinema comes preinstalled.
The iFFALCON F2 comes equipped with features like Full HD and Micro Dimming technology. The latest version of the App Store on iFFALCON F2 provides a comprehensive range of downloadable content from over 500 applications ranging from video-on-demand, social, gaming, music, and photo sharing. It comes preinstalled with Netflix, one of the biggest online streaming platforms in the world. It has T-Cast, an integrated feature exclusive for iFFALCON TV which allows users to operate the TV via their smartphones.
iFFALCON F2 also comes with Dolby decoder and supports a variety of audio and video formats, including the latest coding system, from the antenna to the USB and other input channels such as H.264/MPEG4/MKV/AVI/MP4 video coding. Equipped with comprehensive safety features such as lightning protection, fast heat ventilation, and wide voltage range, it consumes significantly lower power and is moisture-proof. iFFALCON F2 comes in two configurations, the 40-inch variant 40F2 and the 32-inch variant 32F2.