TCL will launch its exclusive range of QLED Google TV in Ultra 4K resolution – T6G. This TV will be announced on 9th June 2023, 12 noon with special discounts and offers and will be available on Amazon and Flipkart.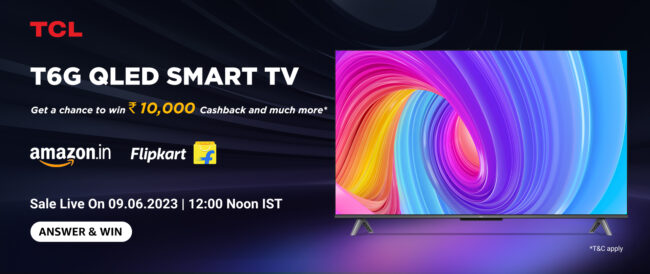 The new T6G 4K QLED TV with Google TV OS will be available in three different display sizes – 43", 50" and 55" and comes with stunning resolution and a 60 Hz refresh rate. It comes integrated Dolby Atmos, DTS Virtual: X technology and Dolby Vision to provide an upgraded TV set. Additionally, it embeds in-built OTT apps and also works with Alexa.
The entire T6G range comes with notable features and a sleek bezel-less design. The stylish design provides an end to end edge display and its slim wall mount is ideal to achieve a high-end look.
The expected launch price of T6G range is between Rs. 38,990 to Rs. 54990 which will make it one of the most affordable Smart 4K Ultra HD Smart QLED TVs in India. All three sizes will be available in black colour and will be available for purchase from Amazon and Flipkart, beginning 9th June 2023 noon.
As part of the pre-launch initiative, TCL is already running a quiz contest for online buyers on Amazon and Flipkart which will be live till 9th June 2023 (11:59 am). The two lucky customers who take part in the quiz will get the chance to win Rs. 10,000 INR Amazon pay balance while Flipkart users will receive Rs. 10,000 as cashback. The company also announced additional offers for customers partaking in the Amazon quiz to receive a targeted coupon of Rs. 1,000 and Rs. 2,000 on the purchase of 43″ and 55″ model, respectively. On the other hand, customers participating in the Flipkart quiz will receive a targeted coupon of Rs. 1,500 and Rs. 1,000 on the purchase of 50″ and 43″ models respectively. The coupon will be valid from 1st June to 30th June 2023.
(All customers who take part in the quiz will get a Rs. 1,000 targeted coupon on 43T6G and Rs. 1,500 targeted coupon on 50T6G together. The coupon can be used till June 2023 and each buyer account will be entitled to receive only 1 coupon on each model.)
TCL features a premium lineup of 4K Ultra HD QLED TV range in the market and has strengthened its global leadership position in the television and electronics industry by embedding the latest technologies for a transformative viewing experience as stated by TCL in its press statement.