WhatsApp has launched new global Security Center which will act as a one-stop shop for users to learn more about how to protect themselves against spammers and unwanted contact.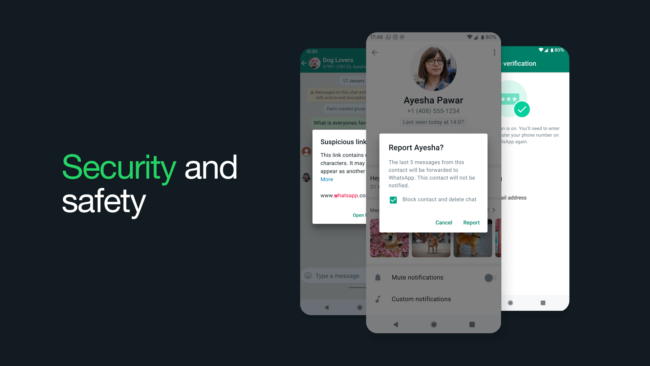 WhatsApp has created this page to build awareness about the various safety measures and in-built product features that empower users to take control of their safety as well as more information on the 'behind-the-scenes' technology used by Whatsapp to run a simple, reliable, private and safe service. 
The Security Center will be available in English and 10 Indian languages (Hindi, Punjabi, Tamil, Telugu, Malayalam, Kannada, Bengali, Marathi, Urdu and Gujarati).
You can visit the WhatsApp security center here: https://www.whatsapp.com/security
Protecting personal messages with end-to-end encryption is one of the best lines of defence against scammers and fraudsters and in addition to that WhatsApp is consistently working on new and innovative ways to enhance people's safety and privacy. 
The features highlighted in the Security Center are just some of the ways WhatsApp keep users safe and secure. It informs users about the layers of privacy that WhatsApp provides and lists some top tips to give users more control over their WhatsApp account, including: 
Two-step verification – to avoid account takeovers and to provide another layer of account security 
Scams – how to spot common scams and what you can do if you receive an unwanted message including our block and report tools.
Official WhatsApp – information on how to avoid fake versions of WhatsApp that pose serious risks to your privacy and security 
Group controls – reminders about checking your preferences about who can add you to groups 
Last month, WhatsApp launched an integrated safety campaign 'Stay Safe with WhatsApp' in India highlighting product features that empower users to take control of their online safety and ensure a safer messaging experience. The campaign focuses on educating users about WhatsApp's safety features and tools like Two-Step Verification, Block and Report and Privacy controls that equip people with the necessary safeguards to help protect them from online scams, frauds and account compromising threats.