Techno Mobile is all set to introduce new smartphone in India for the festival season. After successful launch of various Camon series of smartphones, Tecno is now introducing Camon 16. The major highlight of Camon 16 is that it is armed with very powerful 64MP AI quad camera set-up in the rear. Moreover, the 64MP camera will have feature of Auto Eye focus. This is the first smartphone from the stable of Techno to be equipped with 64MP camera and will compete with various smartphones launched recently with same camera configurations by brands such as Realme etc.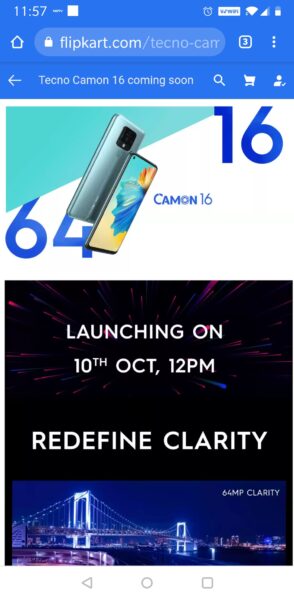 Tecno has announced the imminent launch of Camon 16 on their social media handles:
Instagram:- https://www.instagram.com/p/CGCEVmCBEzH/?igshid=r8c1dgvpsbhl
Facebook:- https://www.facebook.com/1228642697182890/posts/3271474082899731/ 
Twitter:- https://twitter.com/TecnoMobileInd/status/1313728316902313984
The Camon 16 will be sold exclusively on Flipkart and the page for this phone has been made live on Flipkart.
Except camera capabilites the Techno has not revealed more details about their upcoming smartphone and we shall bring you all details and pricing on 10th October. Stay tuned!