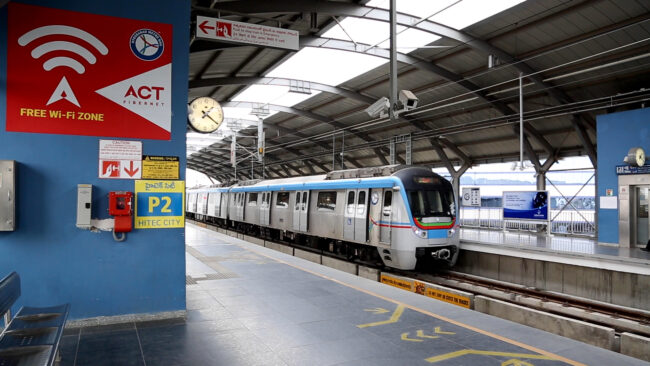 Government of Telangana today officially dedicated 3000+ public Wi-Fi hotspots in Hyderabad as part of the Hy-Fi project in collaboration with ACT Fibernet. With this launch, Hyderabad becomes one of the first cities in India to deploy public wi-fi network at such a large scale. These hotspots are located across the city in malls, hospitals, public parks, metro stations, public libraries, metro stations, educations institutions etc. for easy access.
Users will have to login through "ACT Free Hy-Fi" portal with their phone number and use free internet for 45 mins at 25 Mbps speed and 1 GB data limit without any cost and can also top up further as and when needed. Existing customers of ACT, when they login with their ACT credentials, will get their current home broadband speeds. For example, if the customer has a 100 Mbps plan at home, he will get 100 Mbps speeds when he logs into wi-fi hotspot.
Each of the 3000 Wi-Fi hotspots are powered by ACT SmartFiber Technology, that will ensure superfast and safe internet experience. This technology enables users with smooth, seamless connectivity for video content, including calling, streaming, and ultra-fast file transfers on ACT's Gigabit-enabled network at scale. With implementation of the SmartFiber technology, a study by InMobi in April 2021 has concluded that in addition to being the largest ISP in Hyderabad, ACT is also the fastest service provider in Hyderabad, and the best broadband for streaming.
Details of Plans for Hyderabad:
| | | | | | |
| --- | --- | --- | --- | --- | --- |
| Type | Free | Speed | Data | Price (Guest Users) | Price (ACT Users) |
| Free | 45 min | 25Mbps | 1GB | Free | Free |
| Paid | 1 hour | 25Mbps | 2GB | Rs.25 + Taxes | Free |
| Paid | 3 hours | 25Mbps | 4GB | Rs. 50 + Taxes | Free |