Tencent Games' 'Arena of Valor', one of the most popular and addictive MOBA games (multiplayer online battle arena), has launched new game mode — Football Fever. Within a few months of being launched in India, The FIFA World Cup fervor and excitement has reached Arena of Valor this season with a new update "Football Fever". Instead of destroying towers and killing minions, players will instead take to the pitch in a three-on-three soccer match where attacking the ball sends it towards the goal.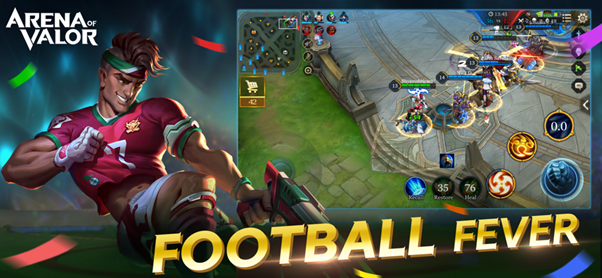 Football Fever combines football and MOBA and creates an all new gameplay suited for both MOBA and football enthusiasts. The game mode also features a unique set of skills, exclusive to this mode. You can experience the thrill of a football match and the intensity of a MOBA game, both at the same time. This update will also be introducing a new hero, Tulen in the game along with a new football fever themed skin.
Apart from that, existing heroes like Xeniel, Murad, Valhein, and Max will also get new skins with the same theme.
According to Aneesh Aravind, General Manager, Tencent Games India, "If you are a fervent Football fan then AOV's Football Fever, is going to leave you in a fever pitch. The best part —You can celebrate the World Cup by playing with your favorite heroes in quick 4-minute matches. We are very excited about this new game mode and am sure that our AOV Fans in India will enjoy these world cup themed matches alongside their AOV heroes on a football field."