For soccer fans, here is prediction from Microsoft's Bing for today's quarter finals to be played from few hours from now in Russia and tomorrow's two matches.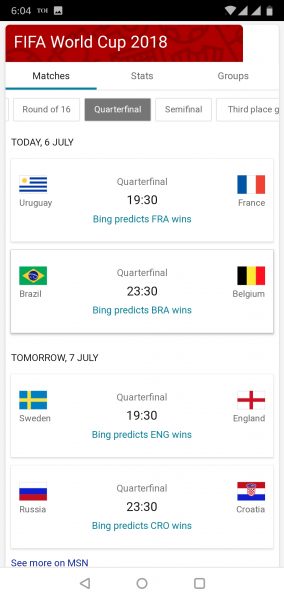 Bing Predicts – an AI powered prediction engine from Microsoft envisages winning chances of teams, making the game more interesting. Bing Predicts uses predictive analysis and machine learning to provide deeper insights for predicting team wins as stated by Microsoft.
Bing accurately predicted the winners of 6 out of 8 knockout stage games so far, in the ongoing 2018 World Cup, including the victory of France over Argentina. Its prediction of Belgium's win over England in the group stages was against odds but Bing's pick persevered.
Today, Bing Predicts can envisage possible outcomes for sports events across the world be it football, cricket, tennis or individual sports like track and field events.
As per its today's prediction for matches between Uruguay and France, it says France will win. Similary for the next encounter between Brazil and Belgium, Bing says Brazil will be the winner. For tomorrow's two matches between Sweden and England and Russia and Crotia, it is predicting wins for England and Croatia.
Let us see how far true is the prediction of Bing this time. Stay tuned to the matches and the first match between Uruguay and France starts exactly after one hour from now!