Are you fed up with feeling like Cinderella? No one can blame you; it always feels like no matter how much you clean, it's still dirty.
This means you never feel like you truly relax, and that needs to change. And thank God there's a smart device out there that can help you recuperate some of your spare time.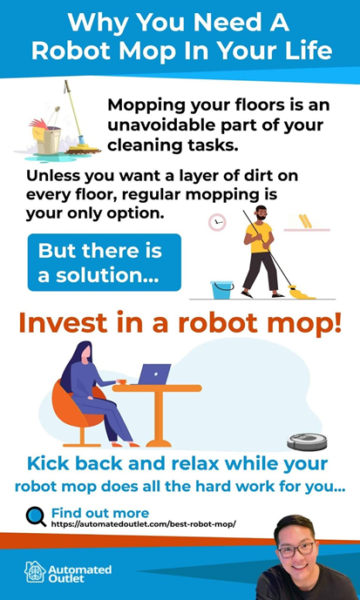 But what is a smart mop, and how does it work?
Robot mops use precision jets to spray the cleaning liquid in front of the robot. The robot will then drive over the spray and scrub the grime off the floor.
The mops use an array of sensors to help navigate its way around your home. It does this intelligently, so they don't knock things over or get stuck.
That's just the basics of how a robot mop works, but obviously, some brands have extra features that can help you further with the cleaning.
Which leads nicely to the next section:
What To Look For In A Robot Mop
As mentioned before, different brands will have varying features that could make or break the device for you.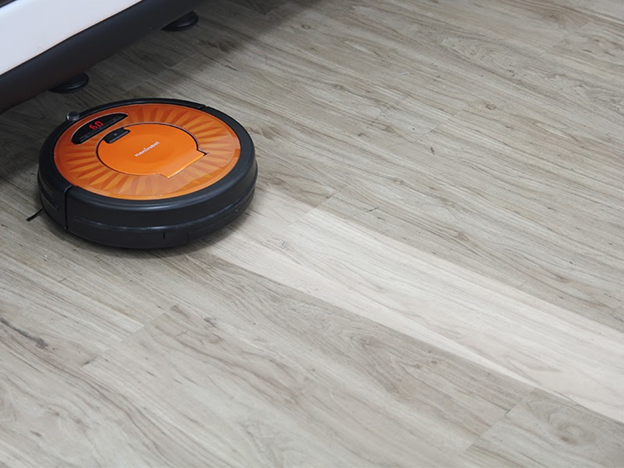 So, to help you avoid any shoddy purchases here's some things you should be looking at:
Size
One of the great things about robot mops is they can get into the places you would usually struggle to get to. Finding the right size robot mop could mean you'll never have to lift/move a sofa again when you're cleaning.
What ride height you require will depend on how high your sofas sit on the floor. The lowest robot mops are around 3.5 inches. So if your sofa is lower than that, it won't make a difference what height the mop is.
Auto Charging
The auto charging feature allows the robot to charge itself, which is a fantastic feature, especially if you have a large floor space that needs mopping. Not all robot mops have this feature. So if you don't want to look for the mop after each cleaning session, this is definitely a feature to look out for.
Battery-Life
If you're not interested in having the auto charging feature, you should at least know how long the robot can clean for. This way, you can get the robot straight on charge, ready to tackle another room. On average, robot mops can last around 90 minutes before your robot will need recharging.
Navigation
Robot mops are so popular that they need little to no human interaction to take on the task. But for it to do that correctly, the mop needs to have an intelligent navigation system. This helps the root navigate obstacles without bumping into them or getting stuck. They should also have anti-drop sensors that keep the robot away from stairs and other steep drops. 
Smart Mapping
Smart mapping feature takes intelligent navigation to the next level and is a highly sought after feature. They use a camera and laser to give the robot a view of your home. This lets the robot map each room of your home and locates itself within it. So, why is this so beneficial? 
One reason is it enables you to choose which room you want cleaning and on which days. Another reason is it stops the robot from going over the same spot over and over again.
Boundaries
The problem in most houses is there are multiple floor types in the house, some of which can't be mopped. And unless the robot knows about it, it's just going to keep cleaning. And this can cause problems for your expensive carpet or electronics. Most robots use a magnetic strip that can be placed around the areas you don't want the robot to go. Other robots are a little more advanced than that; they use virtual barriers instead. This feature is usually found with mops that have smart mapping.
Cleaning Functions
You may have already known, but it's still worth mentioning. Some robot mops can perform multiple cleaning functions. All of them will perform the standard wet mopping function, but others can do more than that. Some of the other functions include hoovering and dry mopping.
Control
Robots have various control methods, so you need to think about which one will work best for you. They'll all come with an app, but some only connect with Bluetooth, which means you can't use them remotely. Another method of control is to use your voice assistant like Alexa, but of course, this depends on your mop's compatibility. 
Top Robot Mop Brands
Now you have a little idea of what to look for in a robot mop; you can move on to the next phase, choosing a brand. So, here are two of the best popular brands on the market:
iRobot
This has become one of the favorite robot mops on the market, mainly because of its intelligent and effective cleaning. The higher-priced models come with all the features and gadgets mentioned above in the buying guide.
Roborock 
This is an all in one type mop. It can perform a number of cleaning tasks, including dry mopping, wet mopping, and hoovering. One of the best features is the extremely powerful suction; this ensures no dirt is left behind. This means you don't have to buy multiple cleaning devices because they all come under one roof. 
Rounding Up
Smart mops are an intelligent way of saving your some time and bringing back your life. To make sure you find the right device, follow the buyer's guide above.
But, if you want to take a short cut, you can't go wrong with the robot mops listed here.