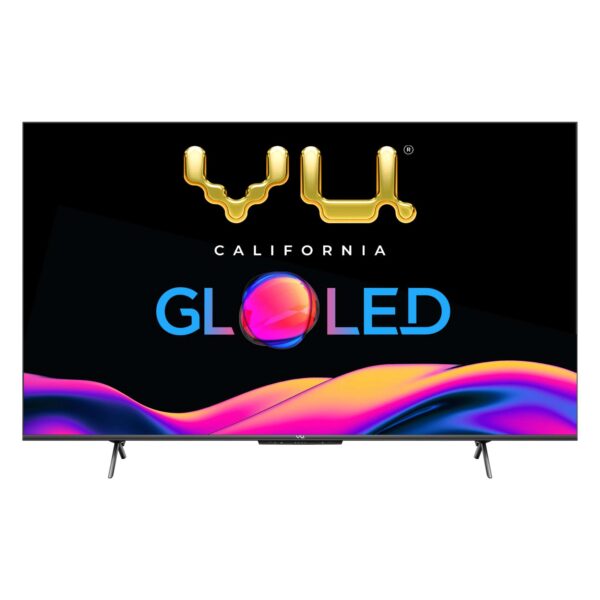 At an event in Mumbai, VU Televisions has launched Vu GloLED TV in India with its proprietary Glo Panel, Glo AI processor and Google TV OS. These TVs come in three screen sizes of 50,55 and 65 inch. These TVs are attractively priced and price starts at just Rs.33,999 for 50 inch TV.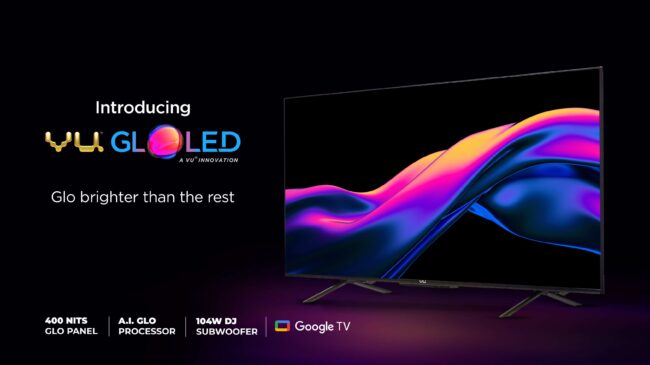 According to VU, The Glo Panel with the Glo AI processor, increases brightness by 60% while reducing energy consumption. The Vu GloLED TV has a NTSC colour gamut of 94%, far more than normal 4K LED TVs which have a NTSC colour gamut of 72% and very close to an OLED which has an NTSC colour gamut of 100%. The Vu GloLED TV comes with a DJ subwoofer built right inside the sleek frame of the Vu GloLED TV and produces a sound output of 104 watts which is a very unique feature.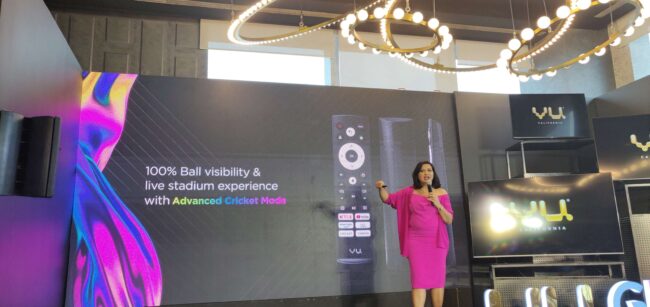 The Vu Glo AI processor has the latest quad-core processor as well as a dual-core GPU to run apps without any lag. This TV comes with 2GB RAM and 16GB of storage. This TV's Remote has easy access hotkeys for Netflix, YouTube, Prime video, Disney hotstar and also for Cricket and Cinema modes.
The Vu GloLED TV is bezel-less to maximize the viewing area and is also equipped with hands-free far-field microphone, supporting voice search and voice commands as well as ambient light sensor to automatically adjust your TV settings under different lighting conditions. The Vu GloLED TV features the next generation of Vu's cricket mode technology – Advanced Cricket Mode. With Advanced Cricket Mode not only do you get 100% ball visibility but also get a live stadium experience which will be appreciated by the cricket and soccer lovers as they can have stadium feeling while watching ICC T20 World Cup 2022, FIFA 2022 and ICC ODI World Cup 2023.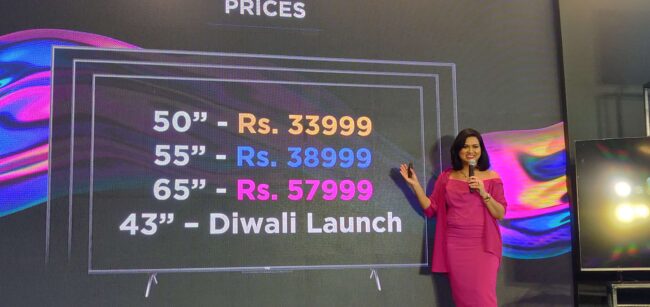 The Vu GloLED TV is priced INR 33999 for 50 inch screen, INR 38999 for 55 inch screen and INR 57999 for 65 inch screen. These TVs will be available from 13th September 2022, on Flipkart & retails outlets. The 43 inch GloLED TV will be launched during Diwali.
Salient Features of GloLED TV:
Picture – 4K Glo Panel, 400 Nits Brightness, 94% NTSC Color Gamut, Dolby Vision, HDR10
Plus, VRR (Variable Refresh Rate)
Sound – Built-in DJ Subwoofer, 104watt DJ soundbar, 4xMaster speakers + 1x Sub-woofer, Dolby
Atmos Sound Enhancement, Woofer Bass control, Audio Only Mode
Content and Software – Google TV OS, Advanced Cricket Mode, Cinema Mode
Hardware – Glo AI Processor, Far-Field Microphone for Hands-Free Voice Search, Ambient Light
Sensor, 16GB eMMC 5.1 storage, 2GB RAM
Connectivity – Google Chrome Cast, Bluetooth 5.0 I 2.4/5GHz, WiFi I HDMI CEC & eARC/ARC,
HDMI x 3no's I USB x 2no's I Headphone connectivity
Design – Sleek Metal Aesthetics, Bezel-less Display, Crafted in Charcoal Gray, Metal Stand Design, can be wall mounted or can be placed on metal stand.
Commenting on the launch, Ms. Devita Saraf, Chairman and CEO of Vu Technologies, said, "For over a decade, Vu Televisions has launched the latest innovations in televisions and displays in the India. The Vu Masterpiece Glo TV, which was launched in March 2022, has been delivered to more than 9,000 customers across India (at an average price of Rs.1 lakhs per unit) and is the largest selling QLED television online. We kept getting feedback from our customers asking for a similar kind of product but based on a budget-friendly 4K LED panel. Hence, we developed the Vu GloLED TV, which uses Glo panel originally developed for QLEDs on a 4K LED panel. The Glo panel with the Glo AI processor has an NTSC colour gamut that is close to that of an OLED TV and 4.5 times better than that of a standard 4K TV. Moreover, we've added the award-winning audio features that were available in our Masterpiece Glo range to the Vu GloLED TV. We've also closely worked with Google to bring the latest Google TV OS, and we can confidently say that the Vu GloLED TV is the best Google TV out there, right from picture quality, audio capabilities, processing speed and customer centric features. Vu GloLED TV is the only Google TV in the world with Advanced Cricket Mode and Cinema Mode developed at Vu's New Product Development labs in India for the world"