Stream Energy has released an app for use by its Independent Associates and general customers. It is called My Stream Connect and is available for iOS on the Apple App Store and Android on the Google Play store. The app allows customers to view current and past bills, make payments, manage payment preferences, check their wireless usage, and shop for services. For Associates, it makes growing a business that much simpler, by allowing users to more efficiently share Stream services using email, text, and social media platforms.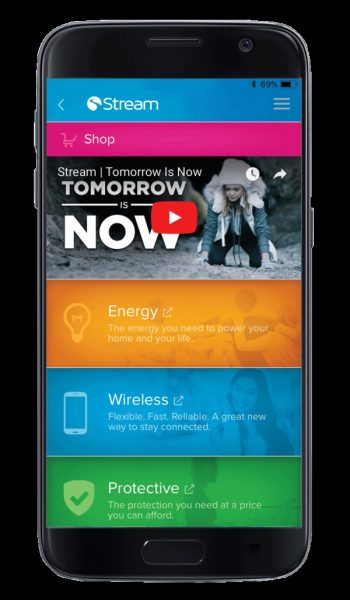 The app functions much in the same way as various aspects of the desktop website but in a convenient and portable package. It's user-friendly and greets you immediately upon opening with a colorful and eye-catching – although not overwhelming – interface. Right off the bat, you are prompted to sign in to your Stream Energy account on the welcome page, which features a tranquil blue backdrop sporting the company's motto ("live life connected") and easily discernible options: sign in, create account, or shop services. The app is also available in Spanish, and switching languages is as simple as clicking "En Español" or "In English."
As with many modern apps, you can save your username and password on the "My Account" page (accessed by clicking "Sign In" from the welcome page), which makes future uses much quicker. Also, if you forget your password, there's no need to worry, because you can recover or reset it straight from your phone without ever accessing a desktop or laptop.
From any page, you can click on the icon in the top right-hand corner to access a pull-down menu featuring the options to shop or contact the company. The contact page provides several options – "Energy," "Wireless," "Protective," "Home," "Support Center," and "Send Us a Request" – to help direct you to the proper avenue for your inquiry without much hassle on your part. There's also a page with helpful videos detailing each of Stream's services.
You can shop Stream's services from either the aforementioned corner icon or the original welcome page. From there, the services are broken up into five categories:
Energy: "The energy you need to power your home and your life."
Wireless: "Flexible. Fast. Reliable. A great new way to stay connected."
Protective: "The protection you need at a price you can afford."
Home: "Creating the house of the future that welcomes you home."
Opportunity: "Stream Associates earn recurring income on selling Stream services and the ability to earn free services. Get started today!"
When you click on one of these options, the app opens a browser tab and sends you to the company's mobile site, where it continues to direct you towards your desired destination. From there, you can pay your bill, renew your account, find out more details about the company's offerings, and, once again, contact the company through various means.
You can also pay your bill or make changes to your account and services on the app itself by signing in using your username and password. It's as easy as selecting a balance to pay and submitting the payment with a couple of clicks on your phone or tablet. It doesn't get much more convenient than that.
About the Company
Stream Energy was founded in 2005 by entrepreneurs Rob Snyder and Pierre Koshakji. These days, it's one of the world's largest direct selling providers of energy. Stream provides energy, home, wireless, and protective services to various citizens in the United States. For some time, it has provided gas and electric services in Texas, Georgia, New York, Pennsylvania, Maryland, New Jersey, and Washington, D.C. In 2017, it expanded its energy services into Illinois and Delaware, and in April of this year, the company even began offering electricity services in six Ohio territories.
Its other services are available nationwide, although the company's headquarters are in Dallas, Texas. One of the aspects about the company that customers like most is the fixed rate plans, which allow them to move forward with peace of mind knowing their rates are locked and not subject to change in the face of a volatile market and uncertain future. Among other offerings, the company provides various renewable resources like wind, solar, and hydroelectric power. In this way, Stream is leading the revolution towards cleaner sources of energy that have less of a negative impact on the environment.
Protective services, which are available nationwide, include credit monitoring, identity protection, and roadside assistance. It even has a service called Virtual MD, which allows customers to engage in communication with a medical practitioner from the comfort of their own homes without the stress of a waiting room or insurance requirement. Plus, it only costs one dollar a day for unlimited consultations. According to the company, "75% of all urgent care, ER, and doctor visits can be handled easily over the phone or via chat." In this way, Stream is on track to disrupt the way most people handle their health care. After the expansion of some of the company's protective services, Executive Vice President and Chief Operating Officer Dan O'Malley said, "This product line truly impacts people's daily lives in areas most don't always think about, like needing a quick prescription from the doctor or help with changing a flat tire."
What makes Stream Energy unique is that it offers the opportunity for people to exercise their entrepreneurial spirits and become Independent Associates. Independent Associates sell Stream's services directly to other potential customers and get paid for doing it. It's an excellent way for people to make extra money or start their own businesses without getting bogged down with traditional sales frustrations like inventory and door-to-door selling. This feat is not only possible but positively easy when Independent Associates choose to spread the news about Stream's services to the people they already know, like friends, family, and co-workers.
Being an Independent Associate allows people to achieve more financial freedom. Plus, it comes with a lot of extra perks. For example, there's lots of room for promotion, which comes with a higher pay rate and added bonuses. Plus, Associates get paid each time someone they signed up makes a payment, and there are bonuses for teams of Associates who meet certain sales goals. Once you've been with the company for a while and either become a Managing Director or higher ranked associate, you're eligible for extra incentives, like travel stipends, company trips, MEI bonuses, and Mercedes-Benz Car Program.
As an Independent Associate, you also get to meet new people and become a part of the positive and encouraging culture of Stream. One of the ways that the company fosters such a great community is by holding retreats and other events. For example, Stream holds an annual Women of Power retreat to honor and support its female Independent Associates and the way they positively impact the culture of the company. "Associates who engage in any Stream event usually see their businesses thrive because of the resources they gain there," said Director of Events Chelsey Berend.
According to O'Malley, Stream Energy plans to continue expanding throughout the U.S. market. "As we move deeper into the Midwest, we're seeing unbelievable opportunity to introduce more customers to not just our services, but who we are as a company," he said. "More great things are on the horizon for Stream."