Whirlpool, manufacturer of major home appliances, has launched Carbon Black Series of premium refrigerators. Whirlpool Carbon Black Series Refrigerators come in two formats – Top Mount and French Door Bottom Mount. Both the formats boast of one of its kind Hybrid Cooling Technology which maintains food moisture content and ultimate freshness over a long period of time as stated by Whirlpool.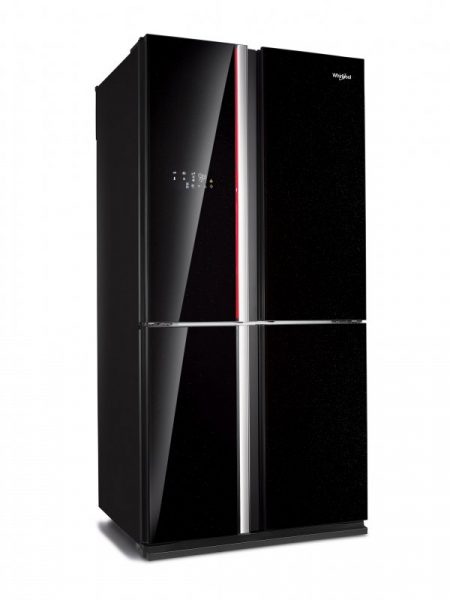 These refrigerators are powered by advanced Japanese Inverter Technology and the 2 Door model provides precise and powerful cooling through its 36 compressor speed levels. With 25.2 decibel, the appliance operates at near zero noise level. Large capacity of 585 L provides sufficient space to accommodate day to day requirements. A special compartment, Fresh Room, allows storage of all the delicate foods, leaving them fresher for longer.
The classic French Door Bottom Mount in a 4-door format is a canvas of seamless, minimalistic black glass doors, Touch UI panel and ergonomically designed Intelligent Glow Bar that creates a stunning and exclusive look. Designed for modern lifestyle, this refrigerator brings home smart technology that lets consumer experience 4 types of ice at home. This Refrigerator is a crystal clear ice making machine. The beautiful Matrix Touch UI controls plethora of features like ice making indicator and self-cleaning ice tray which make this refrigerator the ultimate ice making machine. Available in 678L, it is a true blend of artistry, grandeur and functionality.
Speaking about the launch of this new series, Mr Sunil D'Souza, Managing Director, Whirlpool of India said, "Consumers have moved beyond looking at just the functionality of products, and want their personal gadgets as well home appliances to go along with their premium lifestyle. Whirlpool being a consumer centric brand has always introduced appliances that are high on performance and style. We are delighted to add the all-new Carbon Black Series to our premium product portfolio in the Indian market. This product is a must for anyone who is looking at a blend of style, convenience and technology for their homes."
Pricing and Availability
Currently the products are available in major retail outlets in select cities – Delhi, Mumbai, Bangalore and Chandigarh followed by phase wise launch across Pan India.
Carbon Black French Door Bottom Mount: Rs 207,000/-
Carbon Black Top Mount: Rs 110,000/-