Apple Watch Series 8 and the new Apple Watch SE announced by Apple will go on sale in India from 16th September. Apple Watch Series 8 features a large, Always-On Retina display and a strong crack-resistant front crystal. With all-day 18-hour battery life, Apple Watch Series 8 builds on best-in-class health and safety features like the ECG app and fall detection by introducing temperature-sensing capabilities, retrospective ovulation estimates, Crash Detection, and international roaming.
Apple Watch Series 8 features innovative new temperature-sensing capabilities that give women further insights into their health, designed with the same privacy protections as with all other health data. Apple Watch Series 8 has a two-sensor design — one sensor on the back of the watch, nearest the skin, and another just under the display — reducing bias from the outside environment. The sensors in Apple Watch Series 8 sample the wrist temperature during sleep every five seconds and measure changes as small as 0.1° C. In the Health app, users can see nightly shifts in baseline temperature, which can be caused by exercise, jet lag, or even illness. Utilising the new temperature-sensing capabilities in Apple Watch Series 8, users can receive retrospective ovulation estimates. Knowing when ovulation has occurred can be helpful for family planning, and Apple Watch Series 8 makes it easy and convenient by providing these estimates in the Health app. Temperature sensing also enables improved period predictions.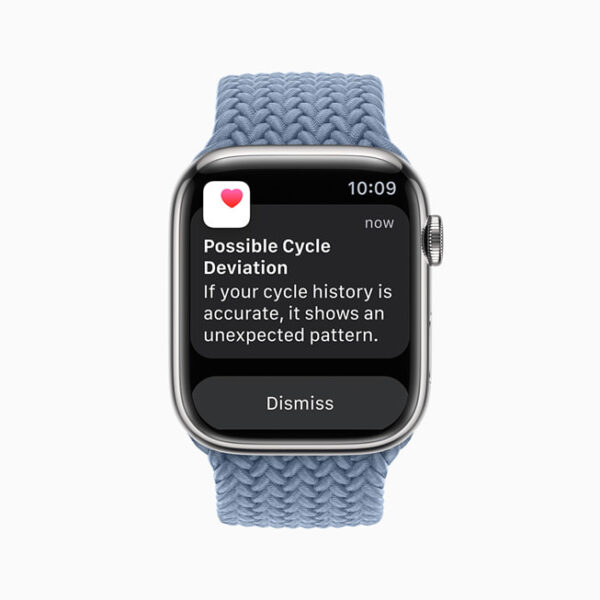 With iOS 16 and watchOS 9, all Cycle Tracking users can receive a notification if their logged cycle history shows a possible deviation, such as irregular, infrequent, or prolonged periods, and persistent spotting, which can be symptoms of underlying health conditions.
Sleep tracking in watchOS 9 provides more insights with the introduction of sleep stages. Apple Watch uses signals from the accelerometer and heart rate sensor to estimate when users are in REM, Core, or Deep sleep. Sleep stage data can be viewed directly on Apple Watch in the Sleep app, and users can view more detailed information in the Health app on iPhone, including interactive sleep stages charts, as well as time asleep alongside heart rate or respiratory rate, in sleep comparison charts.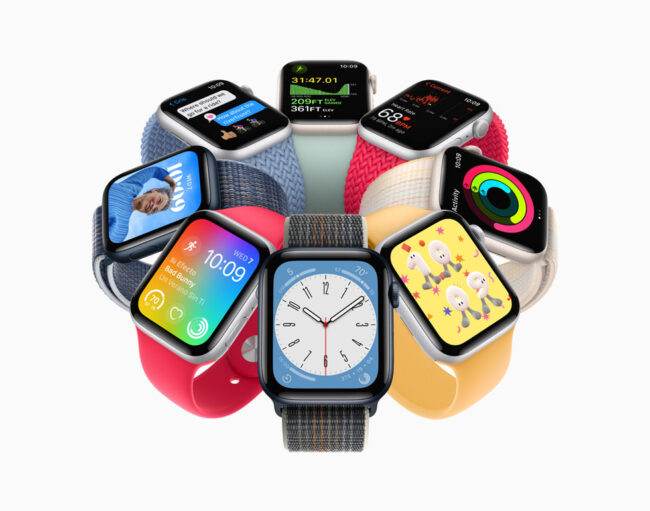 Apple Watch Series 8 will be available IN a range of case finishes, colours, and band types. Apple Watch Series 8 comes in aluminium and stainless steel cases in two sizes, 41mm and 45mm, and is compatible with all bands. Aluminium case colours for Apple Watch Series 8 include starlight, midnight, silver, and (PRODUCT)RED, while the stainless steel case offers silver, graphite, and gold. With Apple Watch Studio, Apple Watch Series 8 can be paired with any available band in the same collection.
The new Apple Watch SE has features of Activity tracking, high and low heart rate notifications, and Emergency SOS, as well as the new Crash Detection feature and a completely redesigned back case that matches the three classic case finishes.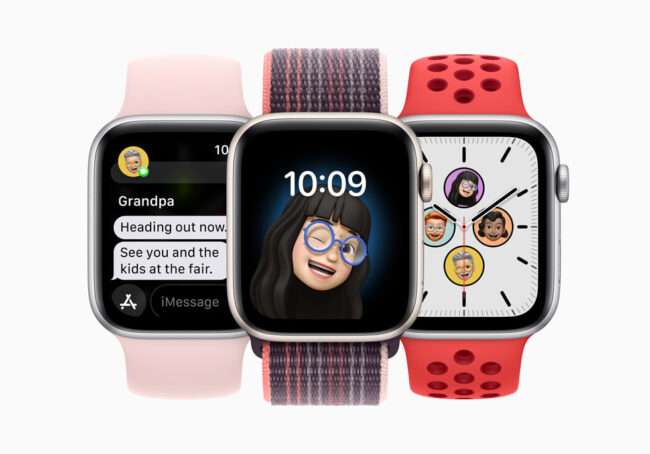 The new Apple Watch SE comes with upgrades which include the S8 SiP advanced dual-core processor, the same processor that is in Apple Watch Series 8 and Apple Watch Ultra, making it 20 percent faster than the previous generation, along with Crash Detection and international roaming.
Apple Watch SE maintains the same case design, but features a redesigned matching back case made of a nylon composite material, making it lighter than ever. With watchOS 9, Apple Watch SE users can enjoy the benefits of the new Compass app in addition to the enhanced fitness and wellness features. Apple Watch SE is available in 40mm and 44mm aluminium cases, in midnight, starlight, and silver finishes, and is compatible with all bands.
Both Apple Watch Series 8 and Apple Watch SE are powered by watchOS 9 and come with customisable watch faces like Lunar and Metropolitan, an enhanced Workout app, sleep stages, a first-of-its-kind AFib History feature, and an all-new Medications app.
Apple Watch Series 8 starts at INR 45900 and new Apple Watch SE starts at INR 29900.