It has always been our dream to make full use of Bluetooth technology present in our mobile phones and get access to the mobile phone of our friend, colleague, girlfriend 😉 or maybe your child and read his/her sms's, check call log and more! In short keep a vigil on the cell phone activities. The uses may differ and depend on person to person.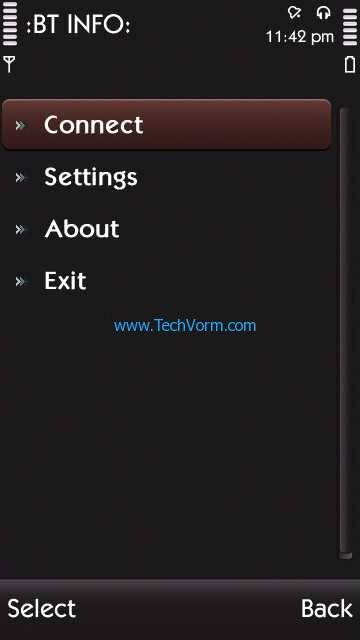 All this is lucrative and immediately catches our attention however unfortunately hack a mobile phone using Bluetooth is not as simple as it may seem to be. You might have come across a lot of articles guiding you to hack into a device only to end up seeing a "Failed To Connect" or similar message. Now, I'll not promise you that this particular java based mobile application will work but since It worked for me and my friend who owns a Sony Ericcson K750i was able to hack into my Nokia 5230 and he made a call without even touching my phone!
So, for me it did work…..!!!!
Without any more teasing, I will introduce the mobile application that made this possible. BT Info or Candy is mastermind of Marek Sedivy. BT Info is a java application which means it is capable of installing and running virtually on all the mobile phones, howesover old/new it maybe. The process to use BT Info is simple, just install it and run it!
Once you run BT Info, among other options you'll see "Connect" option.
Clicking on Connect will take you to another screen wherein you'll see 2 options viz. Inquiry Devices and From List.
Since you are using BT Info for the first time, click on Inquiry Devices.
Now, this may sound lame but the mobile phone which you want to hack into needs to be first connected to i.e bluetooth pairing request needs to be accepted on that device. This defeats the whole purpose of "hacking" and "Spying" of a mobile device but then again, If that was possible then nobody's data will be safe in mobile phone. Anyway, since we are doing this for fun sake, lets move on.
Once the bluetooth pairing request is accepted, you'll gain access to following things (varies from mobile to mobile):
Information about battery, network, sim card, etc,
Call log included dialled number, received calls, etc,
Access to phone contacts,
Inbox access to SMS,
Access to phone functionality, turn off the phone, Silent mode, etc,
Ability to start, delete installed java applications,
Inbuilt media player and more….!!!
All looks too enticing? Don't wait up then!!!
Download BT Info/Super Bluetooth/Candy for your mobile phone (Nokia, Samsung, Sony Ericsson, et al) and start experimenting 🙂 You can download BT Info java mobile application from following links:
NOTE: Information shared here about getting access of another mobile phone is purely for learning/entertainment purpose. We have NO intention of hurting privacy of any individual. Please use this mobile application carefully.