One of the most difficult thing in life is to know how to grow and manage one's hard-earned money. Earlier, people used to invest in Fixed deposits but due to the negligible rate of interest, it is no more an attractive option to keep your hard-earned money invested in them. Now, a newer option is available, ie, Mutual Funds that are capable of giving comparatively higher returns. This option becomes more lucrative if you start investing at an early age and stand invested for a longer duration. But there are chances that you might get confused easily as there are hundreds of Funds available in the market and that too belonging to different categories and asset classes. But how should you go ahead and invest in them? In this age of smartphones, all you need is a well-organized app, and today we will tell about one such app. ETMONEY app is a one-stop solution to all your financial needs. You can download the ETMONEY app on your Android or Apple phone from Google Play Store or App Store and you are ready to plunge into the world of investments with ease.
Simple To Use
ETMONEY app is very simple and contains comprehensive information about investments. This app has an amazing interface and works like a breeze. You can do your KYC online via video and start investing by creating your investment amount in a completely paperless manner. In this app, you can invest in mutual funds, NPS, buy term, motor and health insurance, do fixed deposits, and a lot more. The app also allows you to apply for credit cards and take personal loans, track your bills and expenses. As we said, this easy to run app can take care of all your financial needs.
Mutual Funds – Investments to grow your money 
One of the most sought-after investments of today's time is Mutual Funds. But one often gets confused about where to invest and for how long. Normally, this advice come at a cost of a financial advisor, but if your destination is the ETMONEY app then you have the privilege to know and invest in mutual funds for free! ETMONEY app gives you information on all types of Mutual Funds such as Tax Savers, High Growth, Large Cap and Mid Cap to name a few. The icing on the cake is that you can invest in these Funds at zero commission which means for as long as you remain invested, you continue to earn extra returns by saving on these commissions. If you already have invested in Mutual Funds through either offline or online mode, you can even then switch those existing investments to this platform for no additional fees.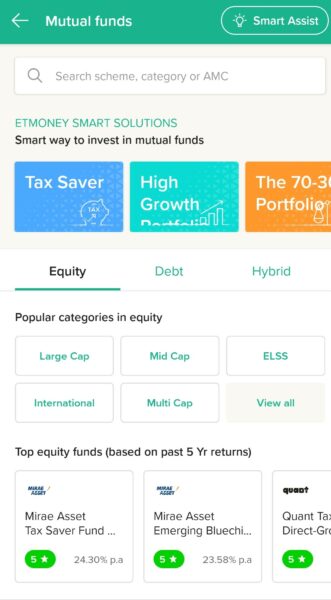 Besides above, this app has a very useful feature of guiding you to find the right mutual fund for yourself through the Smart Assist feature that gives you valuable advice on how to get started. You can also get investment ideas that are quite useful for beginners and help you find the right fund for yourself with ease. Not all investors have the same investment objective, and this app helps you with pre-selected investment packs for different needs based on risk appetite and duration of the investment. You get comprehensive information about all funds and all your confusions are cleared by this app. Plus this app gives detailed information about funds' performance vis-a-vis right benchmarks. All in all, investing in Mutual Funds through this app is super easy and convenient.
National Pension System – Saving for your dream retirement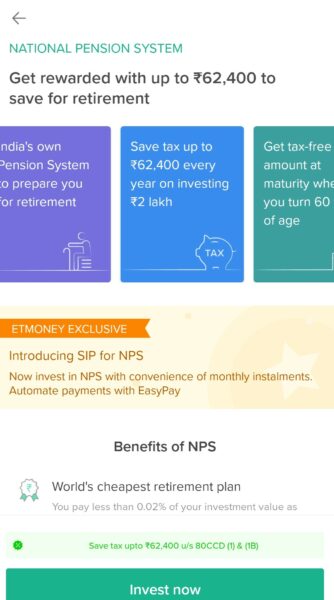 Through the ETMONEY app, you can also invest in National Pension System which prepares you for retirement. NPS gives you better returns than traditional options to create a bigger retirement corpus fo you. Investing in NPS is very easy on the app. You get detailed information about the benefits of NPS and can use an NPS calculator which tells you how much money you will get back on maturity. It also contains a detailed comparison of NPS vs other retirement schemes.
Fixed Deposits – Get Assured Returns
Users can also book an FD on ETMONEY and get assured returns that are up to 50% higher than the returns offered by most banks in India. The other important feature of this app is that it gives you information about fixed deposits, rate of interest and calculate your returns. This option is great for those who do not want to take any risk with their investment and start with FDs as an instrument for guaranteed returns.
Insurance Policies – Choose from best plans from India's top insurers
This app not only allows you to buy Term Life, Health, and Motor insurance but does deep research of selecting the best plans from India's top insurers, so you do not have to go through the hassle of selecting plans from the hundreds of available options.
Your Assistant For Timely Payments
This app also has the feature of tracking your bills and expenses. It has a feature of an automatic bill calendar and you can add your bills to it for getting alerts via SMS so that you can pay all your bills in time to avoid late payment charges.
Personal Loans Facilitator
If you are in need of urgent funds for your personal or business purpose, then you can also take recourse to this app and can take personal loan up to Rs. 20 lakh. This portfolio of loan has feature of Loan pass which once activated, can be used for lifetime. With this, you can borrow whenever you are in need of funds which can be as low as Rs. 3000 and repay with flexible tenures.
Conclusion
To sum up, ETMONEY app is an ideal platform for investments and for all your financial needs. Instead of running here and there for getting financial guidance, you can use this app for all your needs. Moreover, your investments are safe through this app as it applies advanced security protocols. So go ahead and download the app right away!