Google has launched today Google Nest Mini with Google Assistant which is successor of Google Home Mini. The Nest Mini will be available in Chalk and Charcoal colour variants at Flipkart for INR 4,499.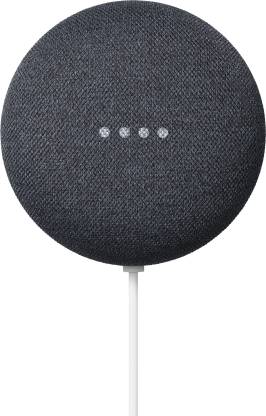 The Nest Mini is claimed to provides bass that's twice as strong as the original Google Home Mini (measured from 60-100 Hz at maximum volume). It has ability to operate in noisy environments. The Assistant automatically modulates the output sound according to the background noise in the room. It also senses proximity to light up the LED as soon as the user's hand gets close to the device; guiding where to tap and adjust the volume.
The users can connect multiple Google or Nest speakers to build a sound system for their whole home. By simply creating different groups in the Google Home app, users can enjoy music, podcasts and more throughout their home. Additionally, with stream transfer, users can fill their home with sound by moving their music, audiobooks and podcasts from one speaker to another by just using voice. Users even have the option of transferring music or podcasts from the phone to the speaker. For example, If you are hosting a dinner party, once you are done cooking in the kitchen, just say, "Hey Google, move the music to the living room speaker," to keep the party going.
The new Google Duo functionality on all Google Home and Nest speakers also allows users to stay connected to their family members at all times. They can call their devices from the Google Home app, using the intercom feature to talk from device to device, or even call someone on the other side of the world, for free. All you need is a Duo account and/or a Google Home or Nest smart speaker or display.
With Google Assistant, users can control their day, enjoy entertainment and control compatible smart home devices brands like Philips Hue, TP-Link and more. In Nest Mini, Google has embedded a dedicated machine learning chip, with upto one TeraOPS of processing power, making it smarter and faster than the original Google Home Mini. Nest Mini can learn the most common commands and process them locally for a faster response time – a feature that has been launched in the US and will soon be available in India.
Nest Mini has the same design as the original Mini, with soft rounded edges that blend in with the interior of homes. Just like the original, the wall mounting capabilities of Nest Mini will help users incorporate the device creatively in home decor and save precious counter and shelf space.
The fabric covering on Nest Mini is made from 100% post-consumer recycled plastic bottles (meaning plastic bottles that have already been used and recycled). A single half-liter plastic bottle makes enough fabric to cover more than two Nest Mini devices. The external enclosure is also made from 35% post-consumer recycled plastic. Now, all Nest products launching in 2019 are built using varying amounts of recycled plastics.
Just like Google Home and Home Mini, Nest Mini supports both English and Hindi.