At an event in London, Huawei Watch GT smartwatch and Huawei Band 3 Pro were also unveiled alongside Huawei Mate 20 Series of phones. Huawei Watch GT has USP of classic wristwatch design, ultra-high battery life, low power consumption, sophisticated activity tracking and fitness coaching features. The Huawei Band 3 Pro is smart wristband and supports a range of precise and professional monitoring capabilities, including improved heart rate and sleep monitoring.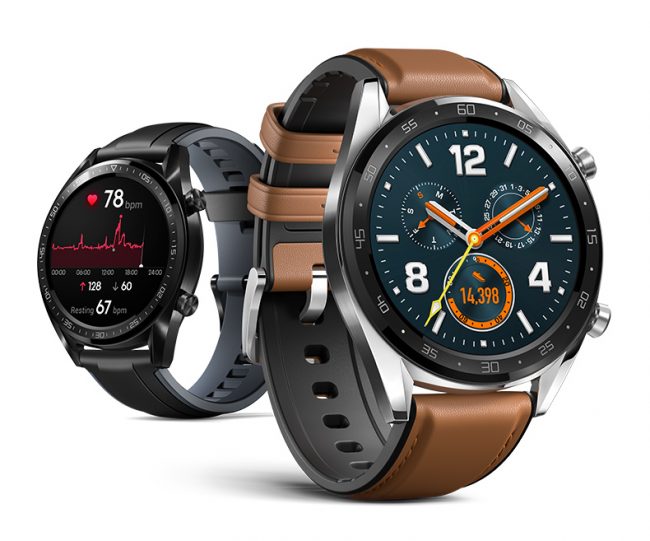 Huawei Watch GT has 1.39-inch (454×254) AMOLED high resolution display. It has a dual-crown design with stainless steel and ceramic bezels having a DLC diamond carbon coating for durability. The 10.6mm case body is compatible with two band options—a dual-color silicone band and an elegant leather-rubber band.
This watch uses an innovative smart power-saving algorithm that enables it to switch between performance and efficiency modes, depending on user activity, for maximum battery life. This allows the smart watch to stay powered for up to two weeks for frequent use mode as claimed by Huawei.
This watch has industry-leading connectivity features. It can simultaneously tap into GPS, GLONASS and GALILEO, three of the major satellite positioning systems, for precise positioning. A tracking algorithm optimizes the tracking data to achieve one-to-one positioning even in areas with numerous disparate signals as stated by Huawei.
This smartwatch comes with various health features and supports all-round sports activity tracking. It enables tracking for a range of sports, including indoor exercises, outdoor running, mountain climbing, cycling and open water swimming. The watch also supports fitness coaching features. By analyzing the heart rate of users with scientific methods, this feature lets users exercise more safely and healthily than ever before.
The TruSeen 3.0 heart rate monitoring technology adopted on this smart watch tracks the user's active and resting heart rate. In Sport mode, this watch can be set up to notify users to adjust the intensity of their workout based on a pre-set target heart rate interval. In Rest mode, the smart watch automatically monitors and records the resting heart rate of users. It uses invisible lights to monitor the user's heart rate during sleep, which is more intimate than other traditional methods.
The Huawei GT Sport edition smartwatch is priced Euro 199 and Classic Edition is priced Euro 249.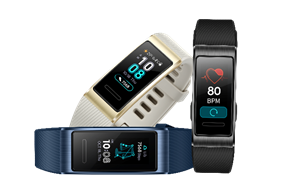 The Huawei Band 3 Pro features a 0.95-inch HD AMOLED color touch screen. It enables you to navigate the various options on the screen by swiping vertically or horizontally, or by tapping the screen to return to Home.
This Band accurately monitors the heart rate of a user throughout the day. It uses IR (infrared) sensors to accurately track the user heart rate without using the obtrusive lights of conventional trackers.
This Band can also track sleep patterns with Huawei TruSleep 2.0. Moreover, the solution uses big data analysis to provide personalized services and suggestions to improve sleep quality.
This Band is priced Euro 99.