This is my first ever hardware review of a computer related product. Though I never thought of reviewing one until recently when I purchased Piano 423 an iBall USB Hub. This small and extremely portable Hub got my attention when I was looking for a solution to bring forth usb connections near the keyboard instead of reaching out for the cabinet each time I needed to plugin a device.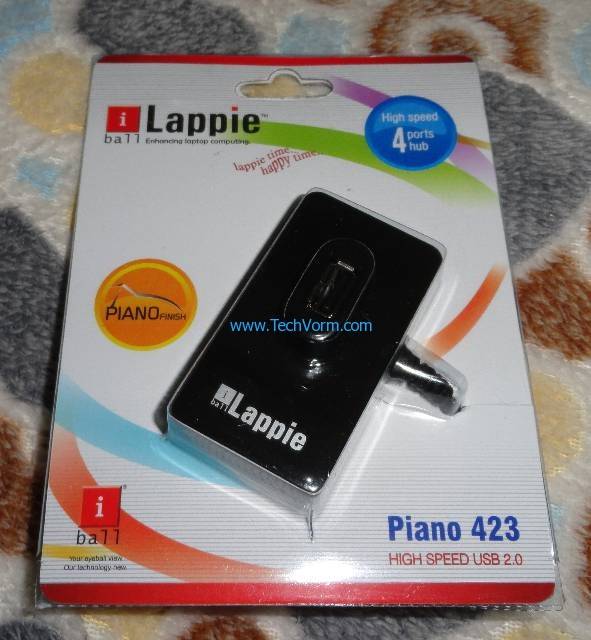 iBall's Piano 423 also had wire length way more than what Belkin's USB Hub had, another reason for favoring iBall over Belkin. Before starting with the review read some of it's technical specification (for the geeks!):
Has 4 USB ports,
USB 2.0. and backward compatible with USB 1.1,
Automatic USB protocol handling,
Self USB Powered (A Port for optional 2.5AMP Adapter is present on backside),
Real Plug-n-play and hot plugged device,
Maximum Data Transfer Rate of 480 MBps (in totality),
Comes with 1 Year (None for damage to wire)
Moving on the review, what I think of this device. For this I'll be dividing it into sections for your convenience. So read on!
Price Factor
The first thing a person looks for is price of the product and that's because almost everything has got a cheaper alternative available. In this case all the branded Hub's were in the range of Rs. 600-400 i.e Belkin, iBall, etc. iBall Piano 423 costed me Rs. 450 but you can buy it at a much less rate on online portals, somewhere around Rs. 350. A 4 port USB hub with a wire of approx 1 meter and something to make your life easy, I'd say this is the right price!
Product Design
Piano 423 is essential a product for Laptop's aimed at being portable for those on the move. Its sleek, light weight and small enough to fit in your pocket easily. Biscuit shaped hub makes it easy to place it anywhere on your computer table or near laptop without worrying about vacating extra space. It has 4 USB ports, one of which is placed on top of the hub (weird position!?) and the other 3 on the front face. It also has strong rubber foot pad, which makes it stay where you put it! In short compact, travel friendly design.
Usability
The most important aspect. As I mentioned above, iBall Piano 423 supports a maximum of 480 MBps data transfer rate, divided into 4 ports, which is way more than the maximum transfer rate an average laptop or home computer can achieve. Moreover data transfer rate is dependent on the connection usb device hence this 2 way dependence rarely makes use of the maximum available transfer rate of Piano 423. But a device with good stat nonetheless!
Piano 423 comes with 4 USB ports out of which 1 USB port is placed above (see above screenshot), now this might look weird but it has been stuck out for you to make it easily accessible. Although I am more concerned about dust gathering on/around it rather than using it frequently 😉
Talking about connecting with computer, well no extra software installation is required nor any adpater is required for power supply (integrated). Just plugin the USB Hub's usb in whichever usb slot you wish to connect with, Windows/MacOS will automatically detect it as "Generic USB Hub" and you are all set to connect trillions of usb devices you've got!!
Final Say
After reading the review and what this small USB Hub has to offer, I think you know what my recommendation will be. I say if you need a USB Hub for home computer or Laptop buy this one! It's worth the money spent and comes with a 1 year warranty.
In case you've got any related query then drop in your comment below. I'll be happy to help 🙂