LG Electronics India today launched an innovative Landmark Signage which is made using 70 custom-made curved OLED panels. First of its kind in India, this Signage display has been introduced at Ambience Mall, Gurgaon.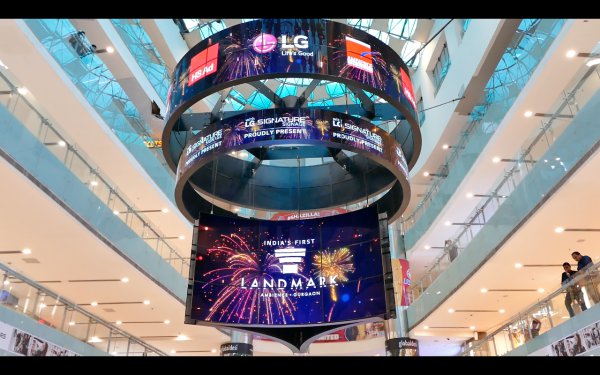 The Landmark Signage is capable of presenting 4K content and creating immersive Augmented Reality experiences. According to LG,  This is the first time that the norms of conventional design and aesthetics have been challenged and stepped-up to create a display technology never seen before.
This mammoth Signage weighs 4.8 ton and has been suspended by punching 6 rigging points into the huge pillars of the Ambience Mall building structure. The LG OLED panels used offer exclusive flexibility in design and therefore can be customized into different shapes and sizes. This unconventional display content technology has opened new doors for the industry as well as for marketers as stated by the company in its press statement.
LG has employed revolutionary technology of the LG OLED TVs in this Signage which offers life-like picture quality with perfect blacks, infinite contrast and an enhanced range of color reproduction. The OLED TVs come with Dolby Atmos and Dolby Vision Technology to deliver cutting-edge image and unrivaled sound quality simultaneously. The Signage can be used in a variety of sizes and shapes in many different spaces due to its extendable nature and curved format. The OLED panels have organic, self-lighting pixels and hence are ultra-thin and lightweight. Because they are IPS Panels, the visibility and image quality are excellent regardless of the viewing angles.