LIKE App is a great platform to showcase your amazing talent with an array of special effects. LIKE App from BIGO Technology which is based in Singapore, is a popular video editing tool that comes with features like body recognition special effects, Music Magic to enrich video experience, etc. The app serves as a tool for smartphone enthusiasts who love to shoot and post videos on online platforms. This App aims to become the best special effect video editing tool in India where youths can create amazing and inspiring videos.
Recently, LIKE App has upgraded with a new creative feature – Colourful Hair to offer users fun elements to play with and lets users edit the hair colour of a person. The dynamic Colourful Hair sticker applies face-detection and tracking technology to enable dozens of unique and active overlays in user's videos. Users can now adorn a stylish look in their videos, with coloured hair of their choice, all for free. You have the option to choose from different styles and colours of hair to suit you.
To use this feature you have to tap on "Stickers">"Colourful Hair".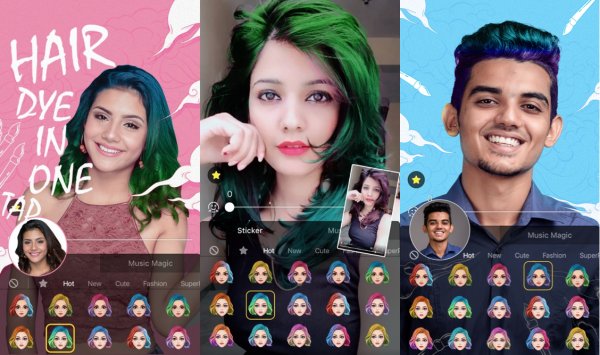 LIKE App also comes with Superme function based on cutting-edge game engine technology to realize real-time interactive image application processing for an innovative option to combine photo-editing with video creation. With this feature, users can easily transfer a 2D image to a 3D video and photo processing can be done with a single click. To use this, one has to tap on "Superme" adjacent to the Shoot option. In the Superme tab, you have to choose a particular action and once chosen, you can create an interesting and amazing video.
Besides this, the app also comes with very other interesting features such as Superpower which is augmented reality effect based on skeleton tracking and classification technology, empowering creators to add supernatural effects that match body movement. 4D Magic is another feature which is an AI-powered body movement tracking paired with image editing and special effects processing that allows for interchangeable, dynamic backgrounds that can accommodate multiple people in a video. Music Magic is yet another creative feature which identifies background music while accurately matching special effects to any sound, enabling users to express their emotions freely by choosing different themes.
The LIKE App is available on Google Play Store and iOS App Store. The app is lightweight and can be used on a low-end smartphone with low storage without any issues.