Motorola owned by Lenovo and makers of popular Moto range of smartphones, came out with unique campaign this Christmas and urged people to maintain healthy #phonelifebalance and nudged users to go beyond material gifts and shower their loved ones with something they would truly value – the gift of time.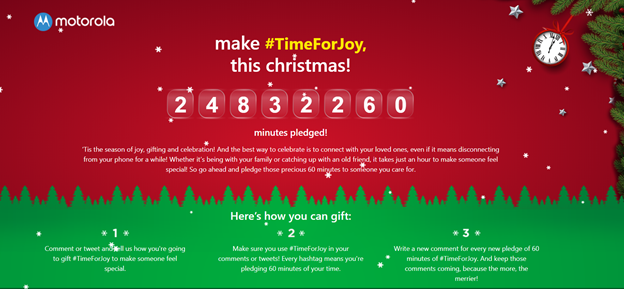 As a part of its festive campaign – #TimeForJoy, Motorola asked users to pledge 60 minutes and share their own #TimeForJoy moment. Participation was made possible through many forums as people were asked to Like, Retweet, Tweet or Comment with what they would like to pledge their 60 minutes to and how they would utilize this #TimeForJoy. For pledging their precious time, motorola sent a lucky few, gifts that would allow them to spend #TimeForJoy with their loved ones, basis their wished shared with us. This included assorted tea bags, board games, yoga mats, dinner & movie vouchers amongst others as stated by the company in its press statement.
The campaign hashtag #TimeForJoy trended at #1 nationally and the campaign garnered over 9 Mn impressions and 1.5 Mn engagements. Overall, 24.8 Million minutes were pledged by those who participated.
The campaign also drove offline engagement, staying true to the core philosophy of #phonelifebalance by organizing old-school dinner dates with couple bloggers who were challenged to spend 60 minutes with their partners without reaching out for their phones. With integrated efforts to congregate an actual change, Motorola additionally sent alarm clocks to influencers, as a reminder to make #TimeForJoy and each minute count. As the best way to celebrate is to connect with loved ones, even if it means disconnecting from phones for a while and striking much needed #phonelifebalance.
Minutes pledged towards meaningful interactions were collated on www.mototimeforjoy.com and updated real time as users participated in spreading true Christmas cheer.
"We live in a hyperconnected world, where it's easy to connect with those far away via our smartphones but we hardly make an effort to meet a friend over a coffee. While forging numerous virtual connections, we've ended up losing out on real connections. As pioneers of mobile phones, motorola believes in striving for a better 'phone-life balance' and this Christmas, we wanted people to gift #TimeForJoy instead of material gifts and spend quality time with their loved ones. With nearly 25 Million minutes pledged, we are quite pleased with the results of this campaign and hope to keep reminding everyone to strike a better phone-life balance in 2019." is what Rachna Lather, Head of Marketing, Motorola India had to say.