Oppo has announced today that it will be launching soon Oppo F17 Pro in India. F series of Oppo has been quite successful and the new addition boast of ultra sleek body design. The F17 Pro will come with a 7.48mm ultra-thin design and 164g ultra-lightweight body.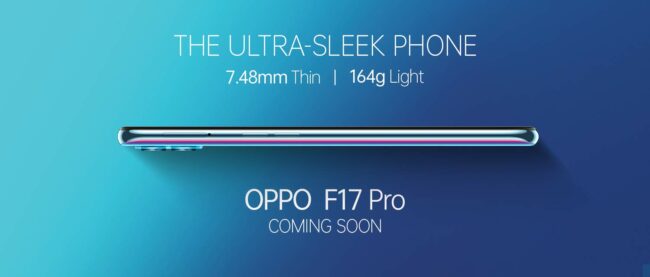 According to Oppo, "the ultra-sleek body of the F17 Pro is made with industry-leading design to optimize and fit the mainboard, battery and other components. For the first time ever, OPPO F17 Pro will introduce a thin 220 Degree Edge to give users a more comfortable and smoother in-hand feel of the device. OPPO F17 Pro is designed with a rounded edge design technique allowing the light to refract at the rounded point giving the phone a thin and stylish appearance. The ultra-sleek body of the OPPO F17 Pro ensures that it easily slides into the pocket or can be tucked into the bag with ease without causing any bulge. Along with ultra-sleek design, OPPO F17 Pro will be equipped with a host of features making it a worthy contender in its price segment".
Oppo has not shared other details of F17 Pro except its design features. We will come to know its specifications and price details in due course of time. What we know so far that this will be Amazon.in exclusive. Stay tuned for more details in the coming days!