Oppo is reviving its Find series and has announced today that it will be launching Oppo Find X smartphone at the world famous Louvre Museum in Paris on June 19.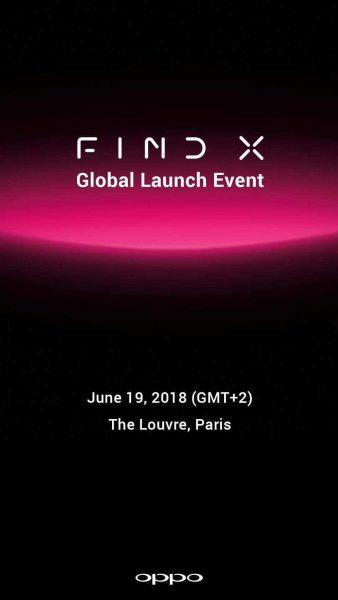 According to Oppo, the Find series has always been known for its excellent configuration, pioneering innovative technology, and artistic design, providing consumers with all-round flagship performance and refined aesthetics. OPPO's classic models of Find series display the brand's persistence to combine technology and aesthetics. From the side-sliding qwerty keyboard design, to the thinnest body to the highest-definition screen and fastest charging technology, OPPO's Find series has ignited the public's imagination time and time again as stated by the company in its press statement.
Few details of Oppo Find phones released by the company so far:
Find X903 was released in June 2011 and represented the best of Android smartphones in China at that time, thanks to its unique side-sliding qwerty keyboard design and overall flagship performance. The launch of the Find series indeed also gave OPPO a formal entry to the field of smartphones, known as "the perfect transformation of OPPO" as stated by the company.
OPPO Finder
This phone launched in 2012 had a body of 6.65 mm and was the thinnest phone in the world at that time. It had stainless steel frame having Super AMOLED display of 4.3 inch.
OPPO Find 5, 1080P HD Display
While mainstream flagships were using standard 720P display screens, Oppo released the Find 5 with 1080P resolution screen and design concept of Screen-off Aesthetics. Find 5 won many awards such as the "best buy recommendations" of PC magazine and "IF Product Design Award".
OPPO Find 7, 5 Minutes Charging for 2 Hours Phone Calls
In 2014, the company released Find 7 to address the issue of fast charging and incorporated in this phone their fastest charging technology, namely VOOC flash charging. Till date, VOOC flash charging technology has served more than 100 million users worldwide and the numbers still rising.
The upcoming Find X will combine Oppo's exploration of aesthetics and future technologies. Stay tuned for more details!